Amanda Freitag's Smashed Yukon Gold Potatoes
A Classic Side Dish for Your Dinner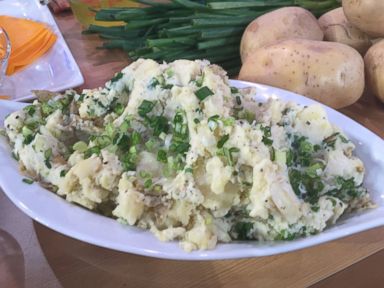 From the kitchen of Amanda Freitag
Food Network favorite Amanda Freitag and author of "The Chef Next Door" shares her Thanksgiving recipe for this classic with "Good Morning America."
Ingredients
2 pound Yukon Gold potatoes, unpeeled
2 tablespoons kosher salt, plus 1/4 teaspoon for seasoning
1/2 cup Chicken Stock or vegetable stock
1 cup finely chopped scallions
Freshly cracked black pepper
1 cup sour cream
Cooking Directions
Prep: Scrub the potatoes, chop the scallions.
Place the potatoes in a large stockpot and add enough water to cover and the 2 tablespoons salt. Bring the water to a boil over high heat and cook the potatoes until fork-tender, about 25 minutes. Drain the potatoes.
Return the potatoes to the still-warm pot and add the stock.
Using the back of a wooden or metal spoon, roughly smash the potatoes to expose the flesh.
Add the scallions and season the potatoes with the remaining 1/4 teaspoon salt and pepper to taste.
Add the sour cream and stir to incorporate completely.
Transfer the potatoes to a serving dish and crack some additional pepper over the top before serving.
Reprinted with permission from "The Chef Next Door: A Pro Chef's Recipes for Fun, Fearless Home Cooking" by Amanda Freitag.
This recipe was styled by chef Karen Pickus for "Good Morning America."
Recipe Summary
Main Ingredients: yukon gold potatoes, chicken stock, scallions, sour cream
Course: Dinner