Smoked German New Potato Salad
Potato Salad With a Smoky Flair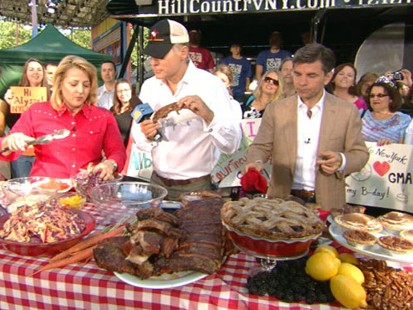 The world's best pit-masters arrive in New York for the annual Big Apple BBQ.
From the kitchen of John Currence
|
Ingredients
2 pounds new potatoes
3 tablespoons Extra Virgin Olive Oil
2 teaspoon kosher salt
2 teaspoon cracked black pepper
For the salad:
3/4 cup diced red onion
1/2 cup finely diced celery
2 teaspoons minced garlic
2 hard-boiled eggs, chopped
3/4 cup green onion, chopped
3 tablespoons parsley, chopped
1 tablespoons mustard Seed
1/2 cup apple cider Vinegar
6 tablespoons grainy mustard
1/2 cup cooked diced bacon
3 tablespoons Extra Virgin Olive Oil
1 tablespoons fresh cracked black pepper
Salt to taste
Cooking Directions
Slice the potatoes into 1-inch disks and boil them until partially cooked. Toss in olive oil, salt and pepper and grill them until done.
Blend the rest of the salad ingredients together well. Store chilled in plastic.
Recipe courtesy John Currence.
This recipe was styled by chef Karen Pickus for Good Morning America.
Other Recipes That You Might Like