How to make Sarah Michelle Gellar's s'mores parfait
Make this kid-friendly dessert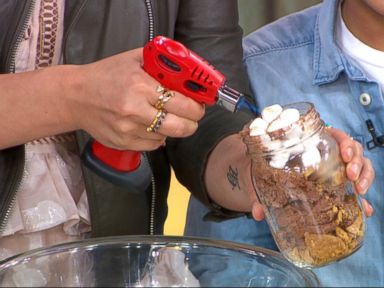 The author shares recipes from her new book, "Stirring Up Fun with Food: Over 115 Simple, Delicious Ways to Be Creative in the Kitchen."
From the kitchen of Sarah Michelle Gellar
Actress and businesswoman Sarah Michelle Gellar shares creative and kid-friendly recipes in her new cookbook, "Stirring Up Fun with Food." Gellar appeared on "Good Morning America" to share her recipe for s'mores parfait. Try this recipe in your kitchen!
Ingredients
24 double graham crackers, broken into large pieces
6 cups chocolate mousse pudding (see below)
30 mini marshmallows
For the Chocolate Mousse Pudding:
2 cups heavy cream
1/2 cup granulated sugar
1 (4-ounce) package instant chocolate pudding mix
1 tablespoon unsweetened cocoa powder
Cooking Directions
For the Chocolate Mousse Pudding:
In a large bowl, use an electric mixer to whip the cream on medium-high speed. As the cream begins to thicken, gradually add the granulated sugar and whip until soft peaks form.
Reduce the mixer speed to medium-low, add the pudding mix and cocoa powder, and mix until thoroughly incorporated.
Spoon the pudding into shot glasses. (Alternatively, spoon it into a piping bag fitted with a decorative tip of your choice and pipe the pudding into the shot glasses.)
Refrigerate for at least 2 hours.
For the S'mores Parfait:

Place a 1-inch layer of graham cracker pieces in the bottom of four 16-ounce jars.
Spoon 1/2 cup of mousse over the graham crackers in each jar. Top with a second layer of graham crackers and another 1/2 cup of mousse.
Top each jar with 5 marshmallows to cover. Using a kitchen torch, toast the marshmallows until golden. Serve immediately.
(If you don't have a kitchen torch, preheat the oven to 400°F and arrange the marshmallows on a parchment paper–lined baking sheet, at least 3 inches apart. Bake for 3 to 5 minutes. Keep an eye on the marshmallows to make sure they don't burn. Use a spatula to remove the marshmallows from the baking sheet and place them in the jars, pressing them slightly into the mousse.)
Recipe courtesy Sarah Michelle Gellar.
Recipe Summary
Main Ingredients: marshmallows, graham crackers, chocolate mousse,
Course: Dessert