'GMA' Super Snack Showdown: Richard Blais' Southern Nachos
The Food Network Chef Shares His Game-Winning Snack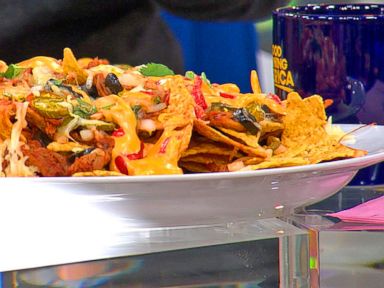 Two viewers are competing to see which of their recipes make the best snacks for the big game, live on "GMA."
From the kitchen of Richard Blais
|
As the Falcons and the Patriots prepare to face off on the field, Richard Blais shared his recipe for a crowd-pleasing Southern nachos with "Good Morning America."
Ingredients
1 bag of crispy corn tortillas
1 cup of pimento cheese
1 cup of pulled pork
1/2 cup diced white onion (Vidalia)
1/2 cup rough chop cilantro
1/4 cup chopped olives
1/4 cup sliced pickled jalapeno from the can
1 cup jack cheese shredded
A drizzle of barbecue sauce
A drizzle of sour cream
For the pulled pork:
1 chunk of pork shoulder (Season this with creole spices, store bought)
Cooking Directions
Lay out your crispy tortilla chips and layer in the style of Jackson Pollock. Include the following:
A good couple dollops of pimento cheese.
Some pulled pork (recipe below)
A showering of raw chopped white onion.
Freshly torn cilantro.
Chopped olives.
Pickled jalapeños from a can.
A showering of shredded jack cheese.
Broil this for a few minutes.
Remove and finish with a drizzle of sour cream in a squeeze bottle, and a handful of chopped cilantro.
For the pulled pork:

Season 1 chunk of pork shoulder with creole spices, store bought.
Wrap in a few layers of foil.
Bake at 300F for 3 hours in an oven.
Remove from oven and mix the juices from the foil into some prepared barbecue sauce (Kansas City style store bought).
Pull the meat.
Recipe styled by Karen Pickus, chef/food stylist, "Good Morning America."
Other Recipes That You Might Like