Chef Timon Balloo's soy marinated chicken thighs
Try this delicious recipe!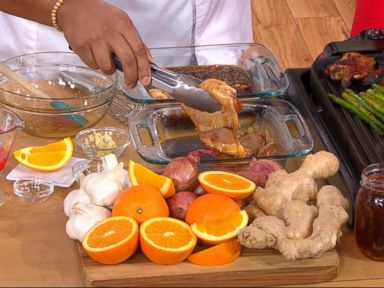 The executive chef at Las Vegas' new Sugarcane restaurant shows how to make a delicious meal.
From the kitchen of Timon Balloo
Chef Timon Balloo, the executive chef at Sugarcane, a new restaurant at the Venetian Las Vegas, appeared live on "GMA" today to share a delicious dinner recipe. Here Balloo shares a recipe for soy marinated chicken thighs with red onion and crunchy greens.
Ingredients
12 ounces chicken thighs, boneless
1 cup soy marinade
3 tablespoons red onion, thin julienne
2 tablespoons chives, 1 inch thick cut
½ teaspoon sesame seeds, toasted
8 pieces lettuce leaves, wash and soaked in ice water (bibb, gem, romain)
Ingredients for the soy marinade:
1 cup soy sauce, low sodium
¼ cup honey
¼ cup sake or dry cooking sherry
1/2 piece orange, cut in quarter squeezed and added to marinade
2 tablespoons garlic, chopped
1 tablespoons ginger, chopped
1 tablespoons shallots or onions, chopped
2 tablespoons sesame oil, roasted
Cooking Directions
Method of preparation for the chicken thighs:
Marinate chicken for 3-4 hours in soy base. Heat grill or oven broiler on medium to high and cook until an instant read thermometer reads 165 degrees Fahrenheit. Allow meat to rest 5 minutes, slice and serve with remainder of ingredients.
Method of preparation for the soy marinade:
Combine all ingredients, refrigerate.
Recipe courtesy SUGARCANE raw bar grill.
Recipe styled by Karen Pickus, chef/food stylist, "Good Morning America."
Recipe Summary
Main Ingredients: chicken thighs, soy marinade, red onion, chives, garlic, soy sauch
Course: Dinner