Spanakopita Triangles
Spinach Pies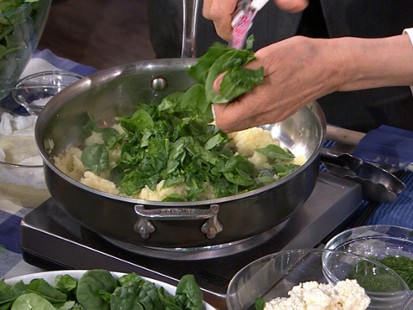 Chef and owner of NYC's Loi prepares spanakopita and stuffed grape leaves.
From the kitchen of Maria Loi
|
Try these homemade spinach pies from New York chef Maria Loi.
Ingredients
4, 10 ounce bags of spinach, stems removed, chopped
12 ounces feta cheese, crumbled
1 large onion, pureed
1 bunch dill, chopped
1 cup olive oil
1 box of phyllo, Apollo #7, thawed, cut into 3" strips (approx 5-6 per sheet)
olive oil, as needed
Cooking Directions
In large sauté pan, sweat onions until translucent, then add spinach and cook just enough to wilt to remove some of the moisture from the onions and spinach.
Remove spinach and onion from heat, drain the excess liquid, and place in a bowl. Combine with feta, dill, and olive oil, and mix.
On the table we have our pre-cut phyllo strips. Place a spoonful of the filling at the end of the strip, fold like a flag; we brush with more olive oil to seal.
Place on parchment lined sheet tray and bake until golden and crispy. Serve with Greek yogurt for dipping.
Recipe courtesy Maria Lio.
This recipe was styled by chef Karen Pickus for Good Morning America.
Other Recipes That You Might Like