'GMA' Lunch Break: George Duran's Spanish Tortilla With Veggies
Try This Flavorful Dish!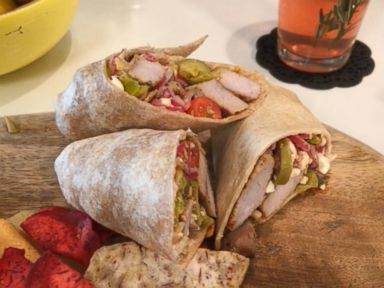 ABC News' Will Ganss stops by the home of chef and entertainer George Duran to learn how to whip up some healthy meals ahead of the Super Bowl.
From the kitchen of George Duran
"GMA" caught up with chef and entertainer George Duran in New York City. Duran, the author of "Take This Dish and Twist It" and the host of TLC's "Ultimate Cake Off," shared his recipe for a Spanish tortilla with veggies.
Watch the "GMA" Lunch Break live stream on ABCNews.com/live and the GMA Facebook page daily at 12:30 p.m. ET.
Ingredients
1 Tblsp. olive oil
2 C. frozen vegetables
10-oz. partially cooked potatoes or frozen potatoes
10 eggs, beaten
1 tsp. salt
non-stick spray
Equipment needed:
10" non-stick sauté pan with heat resistant handle (alternatively, you may cover your plastic handle tightly with aluminum foil)
Cooking Directions
Place your oven rack on the middle position and pre-heat your broiler.
Add olive oil to a 10" non-stick skillet and sauté frozen vegetables and potatoes for 2 minutes on medium-high heat.
Add eggs and salt in a medium bowl and mix potato mixture inside. Wipe skillet with paper towel and spray liberally with non-stick spray. Place on medium heat and add egg mixture. Once edges begin to bubble, cook for about 4-5 minutes, making sure to carefully loosen up the edges with a heat resistant plastic spatula. Place in the oven broiler and broil for 5-7 minutes, until the top has browned evenly and tortilla is fully cooked.
Using an oven mitt or pot holder, remove skillet and allow to cool for 5 minutes. Carefully loosen edges with a plastic spatula and shake pan until tortilla loosens.
Place a cutting board or large round plate on top of the tortilla and invert it.
Cut into slices or squares and serve.
Recipe courtesy: George Duran
Recipe Summary
Main Ingredients: potatoes, frozen vegetables, eggs
Course: Appetizer/Starter