FOOD & WINE's Spice-Rubbed T-Bone Steaks
Outdoor Eats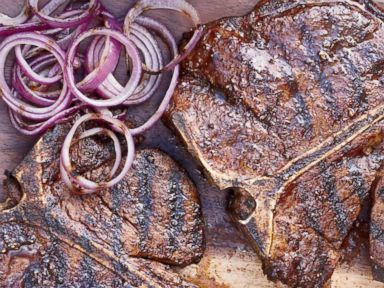 From the kitchen of FOOD & WINE
|
Memorial Day officially kicks off grilling season, and Gail Simmons, FOOD & WINE special projects director and a judge on Bravo's Top Chef, stopped by "Good Morning America" to share the ultimate outdoor dishes. Try FOOD & WINE's recipe for spice-rubbed T-bone steaks below.
Ingredients
2 teaspoons ancho chile powder
1 1/2 teaspoons ground cumin
1 teaspoon hot paprika
1 teaspoon garlic powder
Kosher salt and freshly ground pepper
2 T-bone steaks, cut 1 inch thick (3 1/4 pounds total), at room temperature
Cooking Directions
Light a grill. In a small bowl, mix the ancho chile powder, cumin, paprika and garlic powder with 1 tablespoon of salt and 1 teaspoon of pepper. Season the steaks with the spice rub. Grill over moderate heat for 8 minutes per side for medium-rare; transfer to a work surface and let rest for 5 minutes before serving.
Recipe courtesy of FOOD & WINE magazine.
Recipe styled by Karen Pickus for Good Morning America.
Other Recipes That You Might Like