Nisha Gogia's spicy BBQ chicken and roasted corn quesadillas recipe
Try this food blogger's delicious recipe!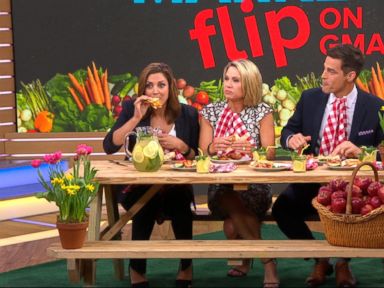 Two food bloggers create the most crowd-pleasing dish using a secret ingredient in a "GMA" version of the new food show.
From the kitchen of Nisha Gogia
Food blogger Nisha Gogia of Honey What's Cooking appeared live on "Good Morning America" today to compete in a modified "Farmers' Market Flip" showdown from Times Square. She was tasked with creating a crowd-pleasing dish using the secret ingredient of corn. Try out her original recipe!
Ingredients
2 ears corn, cut off of the cob (about 3/4 cup)
1 tbs. olive oil
1 tbs. unsalted butter
1 medium onion, sliced thin
1/2 tsp crushed Red Pepper
1 whole chicken breast, diced
1/4 tsp. salt
1/4 tsp. black pepper
1/4 cup barbeque Sauce
1- 8 oz. package shredded sharp cheddar cheese
4 large flour tortillas
Cooking Directions
Preheat the oven to 500 degrees.
Toss the cut corn with the olive oil and season with 1/4 tsp. salt and 1/8 tsp. pepper.
Place in the hot oven. Roast for 20 minutes, until golden brown. Set aside and let cool.
Heat a 10 inch skillet over medium high heat and add the butter. Add the sliced onions and crushed red pepper.
Cook until onions are nicely caramelized about 10-15 minutes, then add the diced chicken, salt and black pepper.
Cook the chicken for 4 to 6 more minutes, until chicken is cooked through. Reduce the heat. Add the barbecue sauce and the roasted corn to the chicken and stir.
Bring to a boil. Set the pan aside until ready to assemble and grill the tortillas.
For the quesadillas:
Heat grill pan on medium low heat. Add the tortilla and heat it up on both sides about one minute.
Add 1/4 cup of cheese and sprinkle evenly on the tortilla. Add 1/4 of the barbecue chicken mixture. Top with another 1/4 cup of cheese. Fold quesadilla and cook on both sides until grilled.
Repeat this method with the remaining three tortillas.
Garnish with fresh cilantro and serve with salsa and sour cream on the side. Serve immediately.
This recipe is printed with permission from Nisha Gogia
The culinary competition series, "Farmers' Market Flip," premieres April 20, 2017, on the Cooking Channel.
Recipe Summary
Main Ingredients: coorn, olive oil, butter, onion, red pepper, chicken breast
Course: Dinner, Lunch, Main Course