Eat-Clean Diet's Spicy Clean BBQ Sauce
Drizzle on Your BBQ Chicken Pizza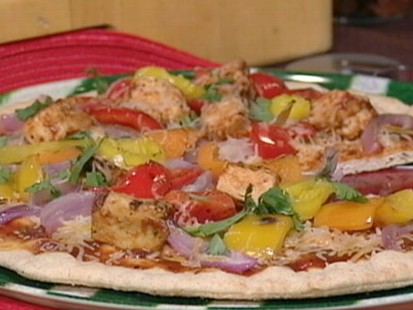 Tosca Reno shares healthier Super Bowl options to spice up your game.
From the kitchen of Tosca Reno
Spice up your pizza by drizzling this delicious BBQ sauce on top.
Ingredients
1 tsp / 5 ml safflower oil
½ large sweet onion, diced
2 cloves garlic, chopped
1 cup / 240 ml Clean bottled or homemade tomato sauce
1 chipotle pepper in adobo sauce, chopped
1 Tbsp / 15 ml deli mustard, or Dijon
1 Tbsp / 15 ml unfiltered cider vinegar
1 tsp / 5 ml Worcestershire sauce
2 Tbsp / 30 ml unsulfured blackstrap molasses
1 Tbsp / 15 ml honey
1 tsp / 5 ml chili powder
½ tsp / 2.5 ml smoked paprika or sweet paprika
Cooking Directions
1. Heat safflower oil in a small saucepan over medium heat. Add onion and sauté until soft and starting to brown, 5 minutes. Add garlic and cook for 1 minute longer. Add rest of ingredients, stir to combine, and simmer for 15 minutes until slightly thickened.
2. Pour into a food processor or blender and blend until smooth. Can be stored in a sealed container in refrigerator for up to two weeks.
Nutritional value per 2 Tbsp serving:
Calories: 50
Calories from fat: 8
Protein: 1 g
Carbs: 10 g
Total Fat: 1 g
Saturated Fat: 0 g
Trans fat: 0 g
Fiber: 1 g
Sodium: 47 mg
Cholesterol: 0 mg
Reprinted from the Eat Clean Diet Cookbook
Recipe Summary
Main Ingredients: deli mustard, vinegar, oil, sweet onion, worcestershire sauce, paprika, chili powder
Course: Sauces and marinades
More Info: Low Fat