Emeril Lagasse's Spicy Fried Chicken Wings With Hot Chile Oil
Try this dish!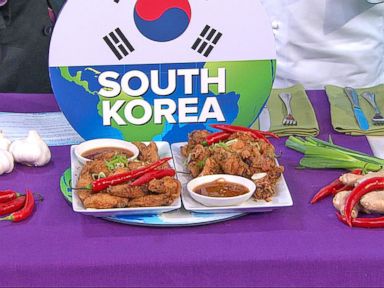 Lagasse is live in Times Square to share dishes from his travels for "Eat the World," an original, unscripted docu-series that follows the chef on a global culinary journey.
From the kitchen of Emeril Lagasse
Emeril Lagasse is traveling the world for his new show, "Eat the World With Emeril Lagasse." The chef is joined by friends from Mario Batali to Marcus Samuelsson as he searches for the best local foods in the six-episode Amazon series. Lagasse appeared on "Good Morning America" today to share recipes from some of the cuisines he tasted. Try this recipe in your home!
Ingredients
2 tablespoons sugar
2 tablespoons salt plus 1 teaspoon
2 pounds chicken wings, about 24, separated at the joint, wing tips reserved for another use
1 cup cornstarch
1/2 cup all-purpose flour
1 teaspoon black pepper
1 teaspoon Chinese five spice
1/2 cup sesame oil
18 dried red chile peppers
1/2 cup sliced green onion, plus more for garnish
2 tablespoons chopped garlic
1 1/2 tablespoons chopped ginger
1/4 cup white vinegar
2 tablespoons soy sauce
1 teaspoon toasted sesame oil
1 tablespoon crushed red pepper, as needed
4 cups peanut or vegetable oil
Cooking Directions
Whisk the sugar, 2 tablespoons of salt and 2 cups of water in a medium mixing bowl until dissolved. Add the chicken then cover and refrigerate for at least 1 hour and up to overnight.
Combine the cornstarch, flour, black pepper, and Chinese five spice in a medium mixing bowl.
Add the sesame oil to a wok. Cut the chiles in half with scissors and add to the oil along with the seeds. Gently heat the chiles for 1 1/2 minutes over medium heat. Turn off the heat, then stir in the green onion, garlic and ginger. Carefully transfer the chili oil to a large bowl. Wipe the wok clean and set aside.
Whisk the remaining 1 teaspoon salt into the chili oil along with the vinegar, soy sauce and sesame oil. Taste the chili oil for spice and whisk in crushed red pepper to taste.
Remove the chicken from the brine and pat dry. Dredge the chicken in batches in the cornstarch mixture and set aside.
Add the peanut oil to the wok and heat to 275 degrees F. Poach the wings in the oil in batches for 6 to 8 minutes. Remove the wings from the oil and set aside on paper towels to drain.
Increase heat to 350 degrees F. Return the chicken to the oil and fry in batches for 6 minutes until browned and crispy. Remove the wings from the oil and immediately toss in the chili oil.
Transfer to a serving bowl, sprinkle with additional green onion and serve immediately.
Recipe courtesy Emeril Lagasse, copyright MSLO, Inc., all rights reserved.
Food styling by Karen Pickus for "Good Morning America."
Recipe Summary
Main Ingredients: chicken wings, red chile peppers, sesame oil, flour
Course: Dinner