Bobby Flay's Spicy Molasses-Rum-Glazed Rib Eyes
'Food Network' Star Doest Barbecue Right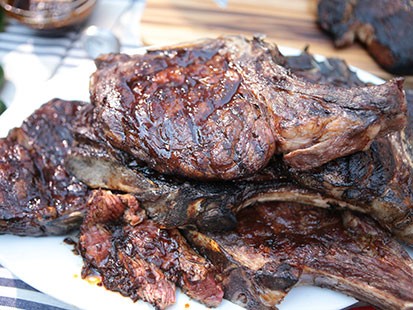 From the kitchen of Bobby Flay
The "Food Network" star chef is out with a new cookbook, "Bobby Flay's Barbecue Addiction," where he dishes up crowd-pleasing classics. Try his recipe for rib-eye steaks at your next barbecue.
Ingredients
2 dried ancho chiles
2 tablespoons canola oil, plus more for brushing
1 large shallot, finely diced
3 garlic cloves, finely chopped
1 cup Myers's dark rum
2 cups low-sodium chicken broth
2 tablespoons molasses
2 tablespoons packed dark brown sugar
1/2 teaspoon coarsely ground black pepper
Pinch of cayenne
Kosher salt
1 tablespoon apple cider vinegar
2 (16- to 18-ounce) bone-in rib eyes, each 1 1/2 inches thick
Jicama-Radish Salad with Grapefruit-Ginger Vinaigrette
Cooking Directions
Put the ancho chiles in a small bowl, cover with 1 cup boiling water, and let sit until softened, about 30 minutes. Drain, reserving the soaking liquid. Remove the stems and seeds from the chiles, transfer the chiles to a blender or food processor with 1/2 cup of the soaking liquid, and process until smooth.
Heat the oil in a medium saucepan over medium-high heat. Add the shallot and garlic and cook until soft, about 2 minutes. Pour in the rum and boil until almost completely reduced, about 5 minutes. Add the chicken broth, ancho puree, molasses, and brown sugar and cook until reduced by half and thickened, about 10 minutes. Season the glaze with the black pepper, cayenne, salt, and vinegar. Let cool to room temperature.
Remove the steaks from the refrigerator 30 minutes before cooking.
Heat your grill to high for direct grilling.
Brush the steaks with oil and season with salt. Put the steaks on the grill and cook until golden brown and a crust has formed, about 5 minutes. Flip over the steaks, brush with some of the rum glaze, and grill until the bottoms are golden brown, about 4 minutes. Flip again and cook until medium-rare, about 2 minutes more.
Transfer the steaks, glaze side up, to a cutting board and brush with more of the glaze. Tent loosely with foil and let rest for 5 minutes before slicing. Serve with the jicama-radish salad.
Recipe courtesy Bobby Flay's Barbecue Addiction, published by Clarkson Potter.
See Bobby Flay live at the NYC Wine and Food Festival this October. Click here to learn more.
This recipe was styled by chef Karen Pickus for Good Morning America.
Recipe Summary
Main Ingredients: bone-in rib eyes, chiles, canola oil, myers's dark rum, low-sodium chicken broth, dark brown sugar