Zero Belly Cookbook's Spicy Popcorn
Try this yummy recipe to keep you on track of your weight-loss resolution this year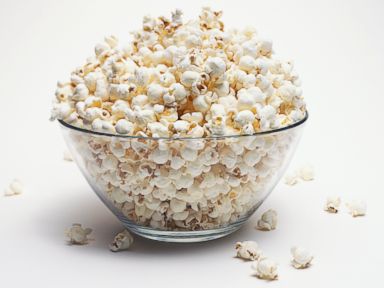 From the kitchen of Dave Zinczenko
Ingredients
1 tbsp virgin coconut oil
¼ cup popcorn kernels
1 tsp smoked paprika
¼ tsp cinnamon
¼ tsp cumin
¼ tsp garlic powder
¼ tsp kosher salt
Cooking Directions
Melt 1 tablespoon of coconut oil in a large sauce pot (at least 4 qt) over medium-high flame. Add the popcorn, and cover with a lid. Shake the pot every 5 seconds until the popcorn starts to pop. Once the popcorn starts to pop, shake constantly back and forth until the popping slows to one pop every 2 seconds. Remove from the heat and take off the lid.
In a small bowl, mix together the spices and salt. Sprinkle the spice mixture over the cooked popcorn and toss to incorporate.
Serve warm or cooled.
PER SERVING: 118 calories / 5 g fat / 19 g carb / 3 g fiber / 3 g protein
Recipe Summary
Main Ingredients: popcorn kernels, coconut oil, paprika, cinnamon, cumin, garlic powder, kosher salt
Course: Snack