'GMA' lunch break: Daniel Holzman's spicy pork meatballs
As Seen on the 'GMA' Lunch Break Live Stream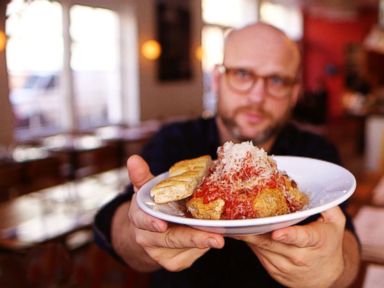 A step-by-step guide to making the Meatball Shop's spicy pork meatballs.
From the kitchen of Daniel Holzman
"GMA" caught up with chef Daniel Holzman at his restaurant, The Meatball Shop, in New York City. Here, Holzman shares his famous spicy pork meatball recipe.
Watch the "GMA" Lunch Break live stream on ABCNews.com/live and the GMA Facebook page daily at 12:30 p.m. ET.
Ingredients
2 pounds pork shoulder, ground
1 and 1/3 tbsp. salt
4 hot cherry peppers, minced (about 1/3 cup)
1/4 cup pepper pickling liquid
4 slices white bread, minced (about 3 ½ cups)
3 eggs
2 tbsp. olive oil
Cooking Directions
1. Preheat the oven to 450 deg. F.
2. Combine all of the ingredients except for the olive oil in a large mixing bowl and mix by hand until thoroughly incorporated.
3. Drizzle the olive oil into a large baking dish (9X13) making sure to evenly coat the entire surface (use your hand to help spread the oil)
4. Roll the mixture into round, golf ball sized meatballs making sure to pack the meat firmly
5. Place the balls into the oiled baking dish such that all of the meatballs are lined up evenly in rows and are touching each of their four neighbors in a grid
6. Roast until firm and cooked through (about 14 minutes)
7. Allow the meatballs to cool for five minutes before removing from the tray.
Recipe courtesy Daniel Holzman
Recipe Summary
Main Ingredients: pork shoulder, salt, hot cherry peppers, pepper pickling liquid, white bread