Mario Batali's Spigarello Salad with Spicy Currants and Fried Eggs
Farm to Table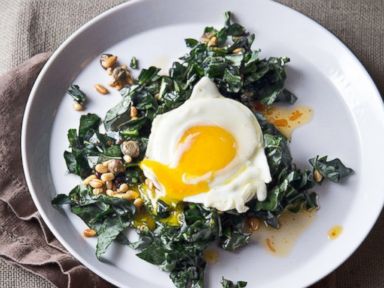 From the kitchen of Mario Batali
"The Chew" co-host and multiple restaurant owner Mario Batali never slows down. Up next for this celebrity chef is his new cookbook, "America Farm to Table," where he shares wholesome recipes like the spigarello salad below.
Ingredients
2 tablespoons dried currants
6 tablespoons white balsamic vinegar
2 tablespoons Sriracha
6 tablespoons extra-virgin olive oil
Zest and juice of 1 lemon
1 tablespoon tiny capers, drained
1 teaspoon kosher salt, plus more as needed
2 bunches broccoli spigarello or Tuscan kale (about 1 pound), cut crosswise into paper-thin slices
2 tablespoons pine nuts, lightly toasted
6 to 8 large eggs (1 per person)
Freshly ground black pepper
1/4 cup freshly grated Parmigiano-Reggiano
Cooking Directions
Place the currants in a small microwave-safe bowl; add the vinegar and Sriracha and microwave for 20 seconds on high, then remove and place in salad bowl to cool.
When cool, add 4 tablespoons of the olive oil, the lemon zest, lemon juice, capers, and salt and whisk together to form a light dressing.
Add the spigarello and toss with the vinaigrette to coat well. Add the pine nuts and let stand at room temperature for 10 minutes.
In a 10-inch nonstick pan, heat the remaining 2 tablespoons olive oil over medium heat.
Crack the eggs into the pan and cook slowly the way you like them -- sunny-side up is best.
Season the eggs with salt and pepper and sprinkle the yolks with the Parmigiano.
Toss the salad one more time. Divide the salad among serving plates, slide an egg over the top of each, and serve.
Recipe Summary
Main Ingredients: dried currants, sriracha, lemon, spigarello, capers, pine nuts, eggs
Course: Salad