Spike's Poppin Peas
They Bring You Good Luck on New Year's Day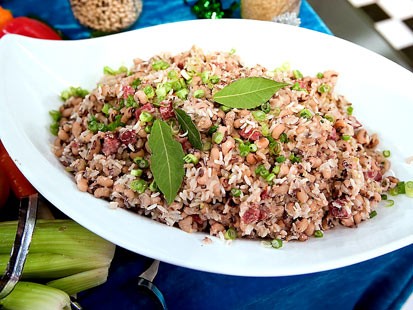 From the kitchen of Spike Mendelsohn
Black-eyed peas are said to bring you good luck if eaten on New Year's Day, so dig in and may the year bring you many wonderful things! Get more of Spike's great recipes from his new book, "The Good Stuff Cookbook," including his toasted marshmellow shake.
Ingredients
1 pound dried black-eyed peas
2 small smoked ham hocks or meaty ham bone
1 cup of sliced bacon
2 medium onions, divided
3 large cloves garlic, halved
1 bay leaf
1 cup long-grain white rice
1 can diced tomatoes, juices reserved
3 ribs celery, chopped
1 jalapeno or serrano pepper, minced
1 tablespoons Cajun or Creole seasoning
1/2 teaspoon dried thyme leaves
3/4 teaspoon ground cumin
3/4 teaspoon salt
4 green onions, sliced
Cooking Directions
Soak beans overnight.
In a large sauce pot, combine the black-eyed peas, ham bone or ham hocks, and 6 cups chicken stock
Cut 1 of the onions in half and add it to the pot along with the garlic and bay leaf. Bring to a boil, reduce the heat to medium-low, and simmer gently until the beans are tender but not mushy, 2 to 2 1/2 hours.
Remove the ham bone or hocks, cut off the meat; dice and set aside.
Drain the peas and set aside. Remove and discard the bay leaf, onion pieces, and garlic.
Add 2 1/2 cups of water to the pot and bring to a boil. Add the rice, cover, and simmer until the rice is almost tender, about 10 to 12 minutes.
Mince the remaining onion then add to the rice along with the peas, tomatoes, and their juices, celery, jalapeno pepper, Creole seasoning, thyme, cumin, and salt.
Cook until the rice is tender, 5 to 8 minutes.
Stir in the sliced green onions and the reserved diced ham.
Recipe Summary
Main Ingredients: black eyed peas, ham, bacon, onions, garlic
Course: Appetizer/Starter, Side Dish