Steak Oreganato
Serve With Roasted Vegetables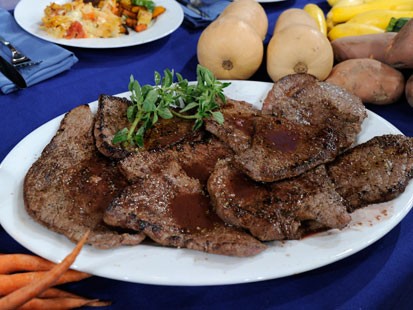 From the kitchen of Stanely Tucci
|
Nonna Tucci cooked steak this simple, quick, flavorful way. We don't serve meat "American style"—with a vegetable and potato on the side. Instead we begin with pasta, followed by meat accompanied by a simply cooked vegetable. We finish with a green salad followed by nuts and fresh fruit. This has long been the tradition in my family, one that I continue to maintain today as I find that pacing the meal this way leaves me feeling less full.
Ingredients
1 top round beef steak (2 ½ to 3 pounds)
2 tablespoons butter
2 tablespoons olive oil
Kosher salt and freshly ground black pepper
½ cup dry red wine
½ teaspoon dried oregano
Cooking Directions
The steak should be ½ inch thick. If necessary, pound it between two sheets of waxed paper to achieve this thickness. Warm the butter and olive oil in a large sauté pan set over medium-high heat. When the butter is foaming rapidly, add the steak and fry to brown on one side, about 3 minutes. (If the steak is larger than your sauté pan, cut it in half.) Turn, and season with salt and pepper. Brown the other side, about 3 minutes. Remove from the pan to a warm platter and set aside.
Add the wine and oregano to the pan, scraping up any meat that may have stuck to the bottom. Simmer to sweeten the wine, about 1 minute. Meanwhile, cut the meat into six equal portions. When the wine sauce is ready, pour it over the meat and serve immediately.
SERVES 6
WINE PAIRING: Medium red and full red
Recipe courtesy Stanley Tucci.
This recipe was styled by chef Karen Pickus for Good Morning America.
Other Recipes That You Might Like