Chef Spike Mendelsohn's Steak Tartine Sandwich
Taste and sophistication in every bite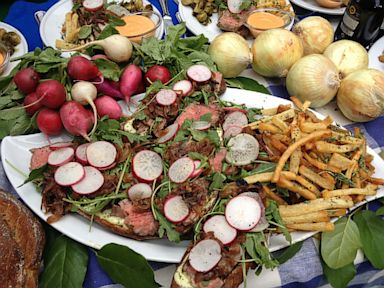 From the kitchen of Spike Mendelsohn
This open-faced sandwich is great for brunch with friends.
Ingredients
4 slices of campagne bread - oval sourdough French loaf
Garlic aioli (recipe below)
Caramelized onions (recipe below)
2 6-to 8-ounce filets cooked to medium rare, cooled and then sliced thinly
Extra Virgin olive oil
Salt and pepper
Arugula salad (recipe below)
Sliced radishes
Garlic Aioli Recipe
3 garlic cloves, chopped
1 large egg
1 tablespoon freshly squeezed lemon juice
1 tablespoon fresh parsley
1/2 cup olive oil
Salt and pepper to taste
Combine the garlic, egg, lemon juice and parsley in a blender. Puree. Salt and pepper to taste. Add the oil in slowly and continue to process the mixture until it forms a thick emulsion.
Caramelized Onion Recipe
2 tablespoons unsalted butter
2 medium yellow onions, halved and sliced paper thin (about 4 cups)
Salt and pepper to taste
Melt the butter in a large frying pan over medium-low heat. Add the onions and cook, stirring rarely, until they are deep golden brown. It will take about 45 minutes for them to be caramelized. Season well with salt and pepper, remove from the pan and cool.
Arugula Salad Recipe
2 cups of Arugula
2 tablespoons of red wine vinegar
Salt and pepper
Toss the arugula in red wine vinegar.
Salt and pepper to taste.
Cooking Directions
To assemble the tartine:
Toast the slices of bread in your toaster. Spread a layer of the garlic aioli on each slice. Top with caramelized onions. The filet should be cooked medium rare with olive oil, salt and pepper. Then cool the filet and slice it thinly. Separate the sliced filet among the 2 tartine sandwiches. Top with the arugula salad and sliced radishes.
Recipe courtesy chef Spike Mendelsohn.
This recipe was styled by chef Karen Pickus for "Good Morning America."
Recipe Summary
Main Ingredients: campagne bread, garlic aioli, caramelized onions, arugula, filets
Course: Brunch