Stephanie O'Dea's End of Summer Harvest Soup
Sip This End of Summer Soup on a Rainy Day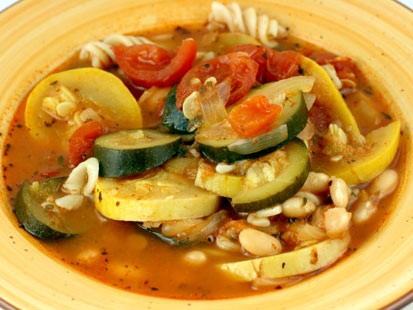 From the kitchen of Stephanie O'Dea
|
School has begun and the mornings and evenings are becoming chilly enough for a hooded sweater. This is prime slow cooker season. When your afternoons are hectic with school work and soccer practice, the slow cooker will safely keep your food hot and ready until you are ready to eat. If you're getting tired of grilled zucchini and summer squash, you aren't alone. Throw them into this hearty soup; you won't be disappointed.
Ingredients
4 cups chicken broth (vegetable stock is fine)
1 cup prepared pasta sauce
1 cup water
1 medium yellow onion, diced
4 zucchini, washed well and sliced in 1/4-inch rounds
2 yellow summer squash, washed well and sliced in 1/4-inch rounds
2 cups cherry tomatoes, halved or quartered (depending on size)
1 tablespoon Italian seasoning
1/3 cup dry white Cannellini beans (this doesn't sound like a lot, but they swell)
1/2 cup pasta (to add 20 minutes before serving)
salt and pepper to taste
garnish with Parmesan and Romano cheeses
Cooking Directions
Use a 6-quart slow cooker. Wash squashes well, and slice in rounds. Place into slow cooker, with diced onion and tomato wedges. Rinse your beans in hot water, and add to cooker. Add broth, pasta sauce, and water. Stir in Italian seasoning.
Cover and cook on low for 8-10 hours, or until beans have reached desired tenderness. 20 minutes before serving, stir in raw pasta. Serve with grated Parmesan and Romano cheese.
This soup freezes well, but reheat on the stovetop, not in the slow cooker. Add a bit more both to thin, your beans and pasta will swell.
Stephanie O'Dea is the New York Times best-selling author of the Make it Fast, Cook it Slow cookbooks.
Other Recipes That You Might Like