Stephanie O'Dea's Poor Man's Chili
The Perfect Fall Comfort Food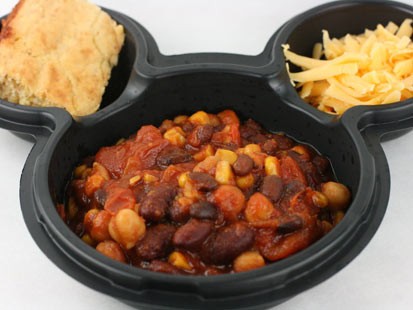 From the kitchen of Stephanie O'Dea
This is a clean-out-the pantry recipe. One of the best things about slow cooking is how you can use pantry staples to make a new family favorite. If you don't have black beans, use pinto beans. If you don't have canned corn, use frozen. This is a very customizable meal---use what you have on hand.
Ingredients
1 (15-ounce) can black beans, drained
1 (15-ounce) can garbanzo beans, drained
1 (15-ounce) can kidney beans, drained
1 (15-ounce) can corn, drained
1 (24-ounce) jar prepared pasta sauce
1 cup baby tomatoes
1 teaspoon cumin
1 teaspoon corriander
1 teaspoon tumeric (not really a "poor" spice, it's a substitute for saffron, but I had it in the cupboard. If you don't have any, you can try a mixture of curry and cardamom, or just omit it all together)
1 cinnamon stick
Cooking Directions
Use a 6-quart slow cooker. Drain the beans and corn, and put the can contents into your crock. Top with tomatoes and the pasta sauce. Stir in spices, and add cinnamon stick. Cover and cook on low for 7-8 hours, or on high for about 4. If the tomatoes haven't popped on their own, gently poke them with a wooden spoon to pop before serving.
This freezes and reheats well. Try stretching the leftovers the next day on top of a baked potato.
additional clean-out-the pantry slow cooker ideas:
Stephanie O'Dea is the New York Times best-selling author of the Make it Fast, Cook it Slow Cookbooks and Totally Together: Shortcuts to an Organized Life
Recipe Summary
Main Ingredients: corn, kidney beans, black beans, tumeric, coriander, cardamom, cumin, garbanzo beans
Course: Dinner
More Info: Kid Friendly