Stephanie O'Dea's Slow Cooked Chile Verde
Get Dinner Done Fast With This Slow Cooked Recipe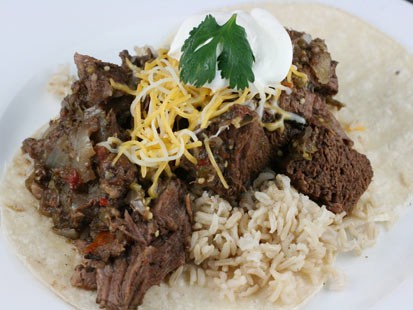 From the kitchen of Stephanie O'Dea
This is a fantastic dish for entertaining, or for a busy weeknight—you can follow the directions listed and make your own salsa verde from scratch with fresh tomatillos (small green tomatoes with a thin, papery wrapper—usually housed next to the tomatoes or garlic in the grocery store), or you can cook the "lazy way" and use jarred salsa verde.
Ingredients
4 pound chuck roast, or pork shoulder/butt (I used beef chuck)
1 green bell pepper, seeded and diced
1 small onion, diced
1 (4 ounce) can diced chilés (mine were mild, your choice)
1 (14.5 ounce) can diced tomatoes
10 tomatillos, diced (peel off the outer wrapper, if they have one)
4 cloves garlic, minced
2 teaspoons kosher salt
2 teaspoons cumin
2 teaspoons sage
1 tablespoon oregano
1/2 teaspoon red pepper flakes (or more, to taste)
1/4 cup chopped cilantro leaves
Cooking Directions
Use a 6-quart slow cooker. Trim any visible fat from the meat, and plop into your slow cooker stoneware. Add diced bell pepper and onion. If your tomatillos have the leafy-outer skin left on them, take the skin and stem off, and dice finely (I used the pampered chef chopper thingy. You can pulse in a food processor, instead, if you'd like). Pour in the cans of diced chilés and tomatoes. Add spices. Stir a bit to get the spices down the sides of the meat. Add chopped cilantro to the top.
Cover and cook on low for 8-10 hours, high for 6, or until meat shreds easily with a fork. After 7 hours on low, my meat was still pretty tough, so I chopped it into large chunks, and put it back in the pot for another 2 hours. By then, it had shredded nicely for me.
Serve with rice, corn tortillas, shredded cheese, and a dollop of sour cream.
This dish pairs nicely with:
Stephanie O'Dea is the NYT best-selling author of Totally Together: Shortcuts to an Organized Life and the Make it Fast, Cook it Slow cookbooks.
Recipe Summary
Main Ingredients: chuck roast, green bell pepper, chiles
Course: Dinner
More Info: Kid Friendly, Wheat/Gluten Free