Stephanie O'Dea's Slow Cooked Sweet Potatoes
Give Your Summer Dinner a Kick With This Barbeque Menu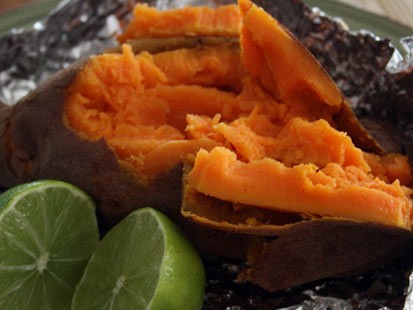 From the kitchen of Stephanie O'Dea
|
Sweet potatoes are perfect any time of year, but they're especially good with barbeque. Try these the next time your fire up the grill or the slow cooker.
Ingredients
2 large sweet potatoes, washed well
1 teaspoon cumin
1 teaspoon chili powder
1 teaspoon kosher salt
aluminum foil
2 limes, quartered (for serving)
Cooking Directions
Scrub the skin of the sweet potatoes and be sure to remove any loose dirt. Pat dry potatoes, and prick the skin with a fork 4-6 times. In a small bowl, combine the dry spices: cumin, chili powder, kosher salt. Spread out a length of foil and place the potatoes inside. Rub the spice mixture all over the outside of the potatoes, and then wrap the foil around to fully seal each potato. Plop into the pot, on top of the ribs.
Stephanie O'Dea is the New York Times best-selling author of the Make it Fast, Cook it Slow cookbooks.
Other Recipes That You Might Like