Stephanie O'Dea's Slow Cooker Caramel Apples
A Healthy Alternative To Your Sugar Fix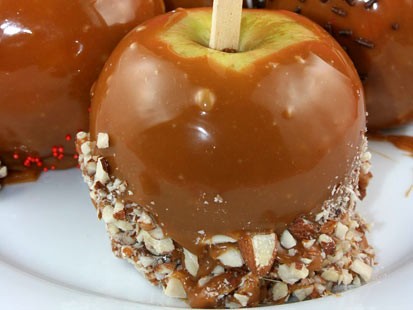 From the kitchen of Stephanie O'Dea
I try to be a pretty easy-going mom, but I must admit I only think of extreme stickiness and dental bills when my kids ask for caramel apples. During a bout of weakness (or temporary insanity), I gave in and said "yes." It was the right decision.
You should make them too. Try not to worry about the dripped caramel on the shag carpet—it comes out with a baby wipe. Or scissors.
These are messy and sticky and absolutely wonderful. I am happy with the way the slow cooker melts evenly, and with low enough heat that the kids (school age and up) can truly make this with little grown-up help.
Ingredients
1 bag soft caramel candies.
4 wooden popsicle sticks
(This time of year in the produce section, there should be bags of soft caramel complete with popsicle stick handles.)
4 large apples
2 tablespoons of water
Cooking Directions
Use a 2 to 4-quart slow cooker. Unwrap all of the caramel, and add them and 2 tablespoons of water to your slow cooker. Cover and cook on high for 1 to 2 hours, checking every 20 minutes or so. The caramel is ready when it is shiny and can be stirred easily.
Push the popsicle sticks into the apples by the stems. Use a spoon to ladle the caramel over the apple, and swirl to completely cover the whole thing. Dip into chopped nuts or sprinkles if desired.
Let cool on parchment paper or non-stick foil.
Stephanie O'Dea is the New-York Times Best Selling Author of the Make it Fast, Cook it Slow Cookbooks and Totally Together: Shortcuts to an Organized Life.
Check out Stephanie's slow cooker blog here.
Recipe Summary
Main Ingredients: caramel candies, apples
Course: Dessert, Snack
More Info: Kid Friendly