Stephanie O'Dea's Slow Cooker Cranberry Pork Roast
Try This Warm Fall Dinner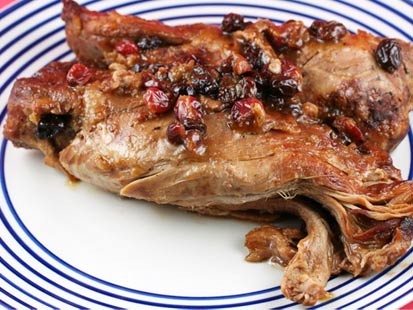 From the kitchen of Stephanie O'Dea
|
This is a wonderful fall recipe. The sweetness of the whole berry cranberry sauce is phenomenal with pork.
If you'd prefer to use fresh or frozen cranberries, please see the note below.
Enjoy!
Ingredients
3 pound pork loin roast or rib roast
2 tablespoons cornstarch
1 teaspoon ground ginger
1/2 teaspoon dried mustard
1/2 teaspoon salt
1/4 teaspoon pepper
1 clove garlic, chopped
1 (16-ounce) can whole berry cranberry sauce
1/3 cup golden raisins
1/3 cup cranberry juice
1/2 small lemon, thinly sliced
Cooking Directions
for fresh/frozen cranberries: 1 cup whole cranberries, 1/2 cup white sugar, 1/2 cup brown sugar. The cranberries will pop while they slow-cook. Smash with a spoon before serving.
Use a 4-6 quart slow cooker. Place the meat into a plastic zippered bag and add cornstarch, ginger, mustard, salt, and pepper. Shake to coat. Take the meat out of the bag, and place into an empty slow cooker. Add cranberry sauce, (or your fresh cranberries & sugar), raisins, and garlic.
Pour in cranberry juice, and top with lemon slices. Cover and cook on low for 8 hours, or high for about 4 hours. If your meat isn't quite as tender as you'd like before serving, cut it into a few chunks, then return to the pot to soak in more juice and flavor. I serve our cranberry pork with roasted potatoes and a green salad.
Stephanie O'Dea is the New York Times best-selling author of the Make it Fast, Cook it Slow Cookbooks and Totally Together: Shortcuts to an Organized Life
Other Recipes That You Might Like