Stephanie O'Dea's Herbed Chicken with Summer Tomatoes
Dig Into This Herby Summery Dish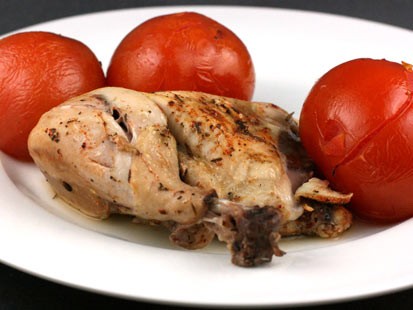 From the kitchen of Stephanie O'Dea
I really like cooking whole chickens in the slow cooker—the meat simmers in it's own juices and slow cooking allows whatever seasoning you've added to really permeate the meat. I usually skin my bird before plopping it into the crock because I'm not a fan of soggy skin, but if you'd like to keep in on for extra flavor, go for it.
After slow cooking, you can save the accumulated juice and drippings to make soup or broth, or you can scoop it out to cook rice in for a fantastic accompaniment.
Ingredients
4 pounds chicken, whole or parts, your choice
1 1/2 teaspoons kosher salt
1 teaspoon black pepper
2 teaspoons herbes de provence
1 teaspoon smoked paprika
8 vine-ripened tomatoes (whole, do not cut or slice)
1/2 cup white wine (you could use apple juice)
Cooking Directions
Use a 6-quart slow cooker. In a small bowl, combine dry spices and set aside. Wash chicken, remove neck and giblets, and try to cut off as much skin as you can with poultry shears. If the chicken is fully thawed, this is much easier to do. Rub the seasoning mixture on all sides of the bird, inside and out and place into your stoneware. I choose to put the chicken breast-side down, to keep it extra moist.
Wash and cut the stemmy part out of each tomato, and place on top. Pour the white wine in, and cover the cooker. Cook on low for about 7 hours, or on high for 4-5. Carefully remove the bird from the pot, and retain the drippings to make a pot of steamed rice.
Stephanie O'Dea's newest slow cooker book is More Make it Fast, Cook it Slow: 200 Brand-New, Budget-Friendly Slow-Cooker Recipes.
Recipe Summary
Main Ingredients: chicken, paprika, tomato, white wine
Course: Dinner, Main Course, Party Platter
More Info: Kid Friendly, Wheat/Gluten Free