Stephanie O'Dea's Slow Cooker Leg of Lamb with Dried Plums
Make Ahead Christmas Meal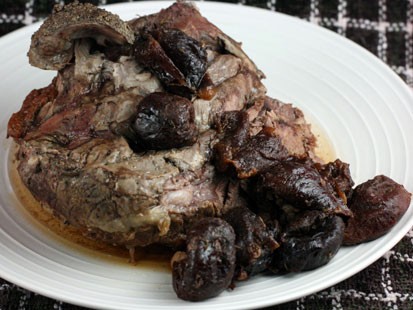 From the kitchen of Stephanie O'Dea
The sweetness from the dried fruit pairs beautifully with the rich, meaty flavor of leg of lamb. This is a beautiful meal, and will impress Holiday guests with very little effort on your part.
For more easy recipes from Stephanie O'dea, check out her website here.
Ingredients
4 pounds boneless leg of lamb
1 teaspoon each of:
rosemary
cumin
kosher salt
pepper
4 cloves garlic, chopped
2 cups dried plums (prunes)
1/2 cup white wine (you could use apple juice)
1 cinnamon stick
Cooking Directions
Use a 6- quart slow cooker. Put the meat inside, and rub the dried spices all over. Add garlic and dried plums. Pour in wine, and toss in a cinnamon stick. Cover and cook on low for 8 hours, or until meat is fork tender, and falls apart easily.
Before serving, remove meat from stoneware, and make a gravy out of accumulated juice by whisking in small amounts of cornstarch. The prunes will be awfully squishy, and will blend right in with the juice and cornstarch. Serve with mashed potatoes or polenta with gravy drizzled over the top.
Recipe courtesy Stephanie O'Dea.
Recipe Summary
Main Ingredients: lamb, rosemary, cumin, white wine, cinnamon
Course: Main Course
More Info: Kid Friendly