Stephanie O'Dea's Slow Cooker Pasta Fagioli
A Make Ahead Halloween Meal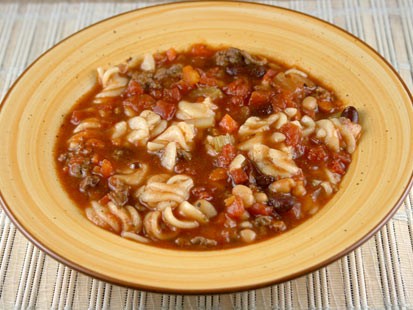 From the kitchen of Stephanie O'Dea
|
Halloween is right around the corner, and one of my favorite tricks is to fill the kids up with a hot, flavorful soup before turning them loose to roam the streets for candy. This is a homemade knock-off of The Olive Garden's famous Pasta Fagioli. It's easy, makes a ton, and is a crowd-pleaser.
Ingredients
1 pound lean ground beef, browned and drained
1/2 large red onion, chopped
1 cup baby carrots, chopped
2 celery stalks, sliced
2 cans (14.5 oz) diced tomatoes (and juice)
1 (15-ounce) can kidney beans, drained and rinsed
1(15-ounce) can white beans, drained and rinsed
4 cups beef broth
1 (16.5-ounce) jar prepared pasta sauce
2 teaspoons oregano
1 tablespoon Tabasco sauce
1/2 teaspoon kosher salt
1/4 teaspoon black pepper
1/2 cup dry pasta, to add at end of cooking time (I use brown rice pasta)
Cooking Directions
Use a 6 quart or larger slow cooker, or cut the recipe in half. This makes a lot.
Brown the meat on the stovetop, and drain well. While the meat is cooling, chop up the carrots, onion, and celery. Add your vegetables to the empty slow cooker.
Drain and rinse the beans, and add to the pot with the entire can of tomatoes, and the jar of pasta sauce. Add beef broth, salt, pepper, oregano, and Tobasco sauce. Stir in the browned meat.
Cover and cook on low for 8 hours, or high for about 4. When the vegetables are tender, stir in 1/2 cup of dry pasta.
Cover and cook for another 30 minutes to an hour on low, or until the pasta is tender. It will swell quite a bit.
Garnish with Parmesan cheese. Happy Trick or Treating!
Stephanie O'Dea is the New-York Times best selling author of the "Make it Fast, Cook it Slow Cookbooks and Totally Together: Shortcuts to an Organized Life."
Check out Stephanie's slow cooker blog here.
Other Recipes That You Might Like