Stephanie O'Dea's Slow Cooker Peanut Clusters
Easy Chocolate Gifts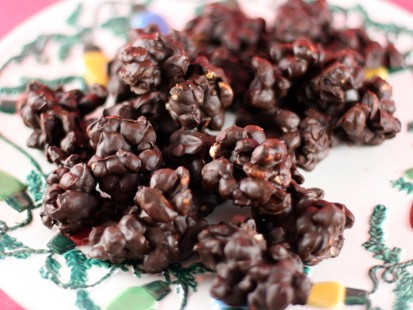 From the kitchen of Stephanie O'Dea
Are you looking for last-minute teacher or mail carrier gifts? Dig out your slow cooker--- this is a fantastic recipe which couldn't be any easier. Warning: these little guys seem to have addictive properties!
For more easy recipes from Stephanie O'dea, check out her website here.
Ingredients
3 (16-ounce) jars lightly salted roasted peanuts (lightly salted is important!)
2 (4-ounce) boxes German Baker's Chocolate
1 (8-ounce) box Unsweetened Baker's Chocolate
1 (24-ounce) bag semi-sweet chocolate chips
1 teaspoon vanilla
Cooking Directions
Use a 6-quart or larger slow cooker. This makes about 150 peanut clusters. Spray the inside of your crock with cooking spray, and place the unwrapped baking chocolate, and bars of German chocolate in the bottom. Add all the peanuts. Pour in the chocolate chips, and add vanilla. Cover and cook on low for 3 hours, or high for about an hour and a half.
While the chocolate is melting, lay out a bunch of parchment paper on your counter top or kitchen table. When time has elapsed, stir well, and remove from heat. Use a small ice-cream scoop to plop out bite-sized piles onto the parchment paper.
Let cool before eating---this takes a long time---hours and hours. It'd be best to leave them overnight so you don't pick at them. Unless you have much more will power than I do, then I suppose it would be okay. But I sort of hate you.
Package up and give away as soon as possible.
Makes approx 150 pieces of candy
Recipe Summary
Main Ingredients: peanuts, chocolate, vanilla
Course: Cookies
More Info: Kid Friendly