Stephanie O'Dea's Slow Cooker Stuffing
Try This Easy Stuffing Recipe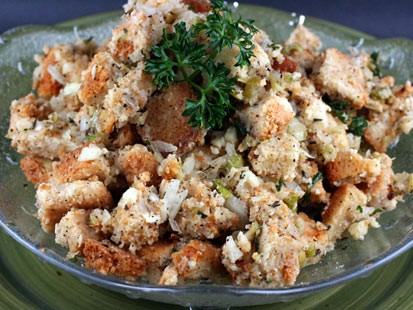 From the kitchen of Stephanie O'Dea
|
We're hosting Thanksgiving this year--- I don't have an accurate headcount yet, but it looks like we'll be somewhere between 14 and 20 people. I'm not worried, though, since the plan is to line the countertop with slow cookers.
I love entertaining with my slow cookers because I can get all the prep and cooking done early in the morning, allowing me to relax and enjoy my company.
Ingredients
1 loaf of bread, lightly toasted in the oven (I used gluten free bread since we're a gluten free family)
1 large yellow onion, diced
1 cup celery, diced
1 cup tart apple, peeled and diced
1/4 cup butter, melted
1/4 cup fresh parsley, chopped
1 1/2 cup chicken or vegetable broth (and maybe 1/4 cup later if needed)
1 tablespoon poultry seasoning,
OR:
1 tablespoon ground sage
1 teaspoon ground marjoram
1/2 teaspoon savory
1/2 teaspoon thyme
1 teaspoon kosher salt
1 teaspoon pepper
Cooking Directions
Use a 6-quart or larger slow cooker.
Toast the bread slices in the oven on large baking sheets at 300 degrees for 20 to 30 minutes, or until toasty.
While the bread is toasting, chop up the onion, parsley, celery, and apple. Add to the slow cooker. Add seasoning and add melted butter. Stir well.
When the bread is done, cut into 1/2 inch size-or-so cubes.
Add the bread to the slow cooker.
Toss very well with the butter, chopped vegetables, and spices. When the bread is coated nicely, pour in 1 1/2 cups of broth.
Cover and cook on high for 2 hours. Sweep up the bread crumbs.
When finished, the bread will have browned a bit on the top and around the edges, and it will be hot throughout. It can stay on warm for probably another 2 hours before serving, if needed. Stir. If you'd like a bit more moisture, you can add a 1/4 cup more (or as much as you desire) of broth.
If you'd like to start the day ahead---you can do the bread cubes, and seal in zipper bags, and chop the vegetables and keep separate. Combine as directed the day of your dinner.
The Verdict
I grew up on Stove Top stuffing, and to me, that's what stuffing should taste like. Not only did this stuffing meet my expectations, it met the high standards of the rest of my family who also crave the boxed stuff. And it's gluten free! If gluten isn't an issue for you, use your favorite sandwich bread. White or wheat; your choice.
Stephanie O'Dea is an author and award-winning blogger, check out her website here.
pecan-topped baked sweet potatoes
pumpkin pudding (crustless pumpkin pie)
Other Recipes That You Might Like