Strawberry Oreo Cupcakes
Satisfy Your Sweet Tooth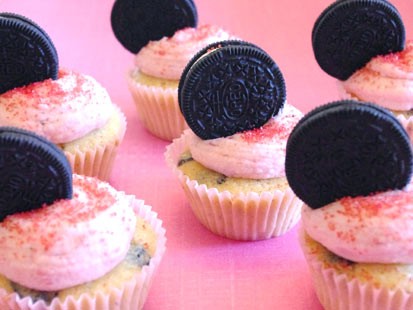 From the kitchen of Lauren Torrisi
|
These pink and black cupcakes are the perfect craving for a sweet tooth. With no artificial colors, the frosting is made by adding pureed strawberries to a normal frosting recipe. Spread the frosting on and top with a cookie.
*Note- to make the strawberry puree, pulse 6 to 7 medium sized strawberries in a food processor.
Visit Lauren's blog to see more recipes and photos of the desserts.
Ingredients
1/2 cup canola oil
1 1/4 cup sugar
3 eggs
2 teaspoons vanilla
1/2 cup milk
1 1/3 cup AP flour
1 teaspoon baking powder
1/2 teaspoon salt
1/2 cup diced strawberries
1/2 cup Oreo cookies crushed
For the frosting:
1 cup butter, room temp (2 sticks)
4 cups confectioners sugar
1/2 cup strawberry puree
To decorate:
Oreo cookies
Red sprinkles
Cooking Directions
Preheat oven to 325 degrees.
Cream together the oil and sugar. Add the eggs and vanilla and mix until combined.
In a separate bowl, mix together the flour, baking powder and salt.
Add the flour and milk a little at a time alternating between the two.
Set up muffin cups in the muffin tins. (You'll need about 18 cups.) Divide the crushed Oreos and strawberries in each cup.
Put the batter in a liquid measuring cup and pour until 2/3's of the cup is full.
Bake for 12-15 minutes until a cake tester comes out clean.
For the icing:
In the bowl of an electric mixer, beat the butter until smooth. Add the confectioner's sugar and beat until smooth.
Slowly mix in the strawberry puree until just combined. Using a piping bag or spatula, spread/pipe frosting on cooled cupcakes.
Top with sprinkles and place an Oreo cookie on each cupcake.
Recipe courtesy Lauren Torrisi.
Other Recipes That You Might Like