Strawberry Shortcake Ice Cream
A Sweet Strawberry Treat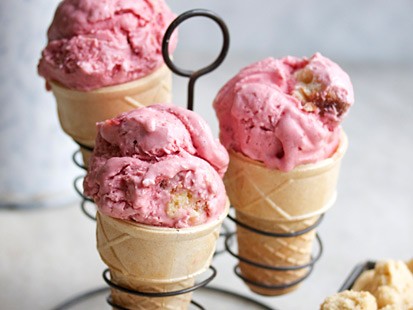 From the kitchen of MilkMade
This strawberry ice cream from Milk Made is the perfect way to start the summer. This hand-delivered homemade ice cream company has so many flavors it's hard to choose our favorite. See more of their flavors here: http://blog.milkmadeicecream.com/
Ingredients
1/2 lb fresh strawberries, washed, stemmed, quartered
1/4 cup sugar
1/4 tsp lemon juice
1 1/2 cup cream
1 cup milk
1/2 cup sugar
1/8 tsp salt
4 egg yolks
Cooking Directions
Cook strawberries, 1/4 cup sugar, and lemon juice over medium heat until strawberries are soft and a syrup has formed. Remove from heat and let cool.
Meanwhile, in a separate saucepan, heat cream, milk, remaining sugar, and salt, stirring until steamy.
In a separate bowl, whisk together the egg yolks.
Temper the egg yolks by gradually pouring some of the steamy milk and cream mixture into the yolks, whisking constantly. Transfer the warmed yolks and milk back into the saucepan.
Cook over low heat, stirring constantly until the custard reaches 160 degrees F, or when it is thick enough to coat the back of the spoon.
Back to the strawberries. Once cool, strain the strawberries from the syrup, preserving the syrup for later use. Puree the strawberries in a food processor or blender.
Stir the pureed strawberries into the custard, whisking constantly. Add the preserved strawberry syrup to taste.
Cover and refrigerate for at least 8 hours. Freeze in an ice cream machine according to the manufacturer's instructions.
Once the ice cream has churned, throw in small chunks of white cake, or shortbread to make Strawberry Shortcake. We used SCRATCHbread shortbread, the best in town. Transfer ice cream to a freezer-friendly container and freeze for at least 4 hours until hardened.
Recipe courtesy MilkMade Ice Cream
Recipe Summary
Main Ingredients: strawberries, sugar, cream, egg yolks
Course: Dessert
More Info: Kid Friendly