Summer Fruit Crostata
A Classic Italian Desset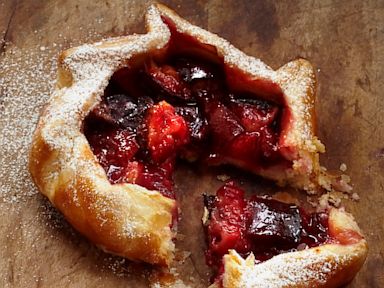 From the kitchen of Franny's
"These pretty, rustic fruit crostatas make great dinner-party fare, and the recipe is versatile enough to suit whatever ripe fruit is in season. The pastry dough bakes up golden, flaky, and incredibly buttery, and it isn't terribly difficult to make. Our pastry chef, Inga Sheaffer, perfected this dough in her tiny Brooklyn apartment kitchen before she started making it at Bklyn Larder, so have confidence that you'll be able to master it in your own home. Use this basic crostata recipe as a template for any summer fruit you can get, from the first raspberries of June to the last of September's plums.
This recipe makes six small crostatas. You can make the pastry in advance and it will keep for up to 3 days. Although you could serve one per person, they are really meant for sharing, and each one feeds two people comfortably—especially if you serve them with a scoop of gelato on top. We recommend Fior di Latte Gelato. You won't regret it."
The following recipe makes six 6-inch crostatas; serves 6 or 12.
Ingredients
FOR THE CROSTATA DOUGH
1/2 cup (4 ounces) water
3/4 teaspoon fine sea salt
1/2 pound (2 sticks) unsalted butter,
cubed and chilled
21/3 cups (11.5 ounces) all-purpose flour
FOR THE FILLING
1 pound 2 ounces (about 3 cups) fresh fruit, such as pitted ripe peaches or nectarines, cut into eighths; pitted ripe plums, cut into sixths; or raspberries, blackberries, or blueberries
1/2 cup (4 ounces) sugar
3 tablespoons (.85 ounce) cornstarch (2 tablespoons/.55 ounce if using blueberries)
1 1/2 teaspoons finely grated lemon zest (optional; see method)
1 tablespoon (.5 ounce) fresh lemon juice (optional; see method)
Large pinch of kosher salt
2 large egg yolks, beaten with 2 tablespoons (1 ounce) heavy cream, for egg wash
1 tablespoon (.5 ounce) sugar
Cooking Directions
To make the dough:
In a small bowl, combine the water and sea salt. Place the butter in a separate bowl. Put both bowls in the freezer for 10 minutes.
In the bowl of a food processor, pulse together the flour and cold butter about 5 times, or until the mixture has some large chunks and some small. Pulse in the water until the dough just comes together but is not smooth.
Dump the dough onto a lightly floured work surface and shape into a ball. Lightly flour a rolling pin. Pat the dough into a rectangle. Roll the dough out to 7 1/2 by 10 1/2 inches. With a short end toward you, using a dough scraper, fold the top third down, then fold the bottom third over (like you're folding a letter to put in an envelope) and rotate 1/4 turn clockwise. Reroll. Repeat 3 times, lightly flouring the work surface as needed. Wrap the dough tightly in plastic wrap and refrigerate overnight, and up to 3 days.
Divide the dough into 6 equal pieces and flatten into disks. Chill for 15 minutes. On a lightly floured surface, roll each one into a 6-inch round slightly less than 1/8 inch thick. Transfer the rounds to a baking sheet, cover with plastic, and chill for at least 10 minutes. (The dough can be refrigerated for 24 hours.)
Preheat the oven to 375°F.
To make the filling:
In a large bowl, toss together the fruit, sugar, cornstarch, lemon zest, lemon juice (if using nectarines, plums, or blackberries, omit the lemon zest and juice, as they are naturally more acidic), and salt.
Spoon about 1/2 cup of the filling onto the center of each dough round, leaving a 1-inch border of dough all around. Fold the edges of the dough up over the filling to partially cover it. Chill the crostatas for 15 minutes. Brush the crush of each crostata with the egg wash. Sprinkle the dough with the remaining sugar.
Bake, rotating the pan halfway through baking, until the crust is golden brown and the fruit is bubbling, 40 to 50 minutes. Transfer to a wire rack to cool slightly and serve warm, or let cool completely and serve at room temperature. The crostatas can be rewarmed in a 350°F oven for about 10 minutes before serving.
Excerpted from Franny's by Andrew Feinberg, Francine Stephens, and Melissa Clark (Artisan Books). Photos by John von Pamer. Copyright © 2013.
Recipe Summary
Main Ingredients: unsalted butter, all-purpose flour, fresh fruit, sugar, cornstarch
Course: Dessert