Marc Forgione's Sunchoked Spinach With Farm Fresh Eggs, Bacon
This Rich and Savory Side Dish Will Impress Your Guests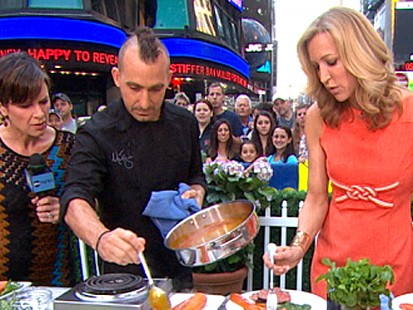 Chef Marc Forgione, owner of American Cut, chats about his emotional win on "The Next Iron Chef."
From the kitchen of Marc Forgione
This sunchoked spinach side dish with farm fresh eggs and bacon is a rich and savory addition to your dinner table.
Ingredients
Baby spinach, 2 pounds
Garlic, 2 tablespoons (sliced as thin as possible)
Bacon, 3 slices
Heavy cream, 2 cups
Sunchokes, 1 pound
Parmesan, 1 cup grated + 1 tablespoon
Nutmeg, 1 tablespoon
Salt
Pepper
Farm Fresh or organic eggs, 4
White wine vinegar, 3 tablespoons
Fleur de Sel, 1 tablespoon
Cooking Directions
The day before, wrap bacon in plastic wrap and put in the freezer. Remove bacon from freezer the day of and set aside.
Rinse sunchokes and slice thinly. Cover with heavy cream and enough water to cover with some salt and a bay leaf, simmer until falling apart, remove bay leaf and put sunchokes (not the liquid) in food processor and pulse until smooth, adding a little of the cooking liquid as needed.
Slice bacon into small strips and sauté in a large sauté pan, once fat is rendered and bacon is crisp, remove 2 tablespoons of bacon and set aside, then add garlic to the pan and watch until turns a light brown color, add spinach and let wilt.
Transfer directly to the food processor with the sunchoke puree, cheese, nutmeg, salt and pepper, pulse until you have what looks like creamed spinach. Transfer to a bowl and keep warm.
Bring 1qt of water to a boil and season with the vinegar, reduce to a simmer (Do NOT add salt). Break the eggs into a shallow bowl, with a whisk stir the water clockwise. Once the water is spinning on its own, add the eggs to the spinning water 1 at a time. Simmer for about 1 min for runny or longer (depending on your liking). Remove the eggs with a slotted spoon and place on top of spinach.
Sprinkle the remaining 2 tablespoon of bacon and 1 tablespoon parmesan on top, season eggs with fleur de sel and a couple turns of fresh black pepper and serve.
Recipe courtesy Marc Forgione.
This recipe was styled by chef Karen Pickus for Good Morning America.
Recipe Summary
Main Ingredients: sunchokes, spinach, garlic, bacon, organic eggs
Course: Side Dish, Vegetable