Sunny Anderson's Eggs in Baskets
The Perfect Brunch Recipe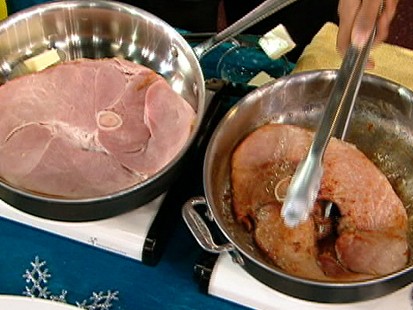 Sunny Anderson shares some delicious recipes.
From the kitchen of Sunny Anderson
|
The cute little cups are perfect for a holiday brunch. Mashed potatoes are the perfect vessel for eggs and crispy prosciutto.
Ingredients
3 large russet potatoes, peeled
1/2 stick unsalted butter, melted
Kosher salt and freshly cracked black pepper
Nonstick cooking spray
6 slices prosciutto, about 2 1/2 ounces, chopped
2 tablespoons maple syrup
6 eggs
3/4 cup shredded provolone
Cooking Directions
Heat the oven to 350 degrees F.
In a food processor fitted with the grater attachment, push chunks of the potato through the chute to grate. Once all the potatoes are grated, put them into a piece of cheesecloth or a clean kitchen towel and squeeze to remove the moisture. Add the potatoes to a large bowl, stir in the melted butter and season well with salt and pepper, to taste.
Spray the muffin tin lightly with nonstick cooking spray. Press the grated potatoes evenly into the muffin cups being sure the potatoes go up the sides and a thin layer and covers the bottom. Bake until the top edges turn light golden brown and the potatoes are cooked through, about 35 to 40 minutes.
Meanwhile, in a small bowl toss together the prosciutto with maple syrup and a few grinds of freshly ground black pepper. Set aside.
Remove the potatoes from the oven and gently crack an egg into each cup. Bake until the egg whites set but the yolk remains runny, about 6 to 8 minutes.
Remove from the oven and set the oven to broil. Top the eggs with grated cheese and put the maple prosciutto on another sheet tray. Broil both until cheese melts, and prosciutto crisps slightly, about 1 minute.
Top the eggs with crispy prosciutto and serve immediately.
This recipe was styled by chef Karen Pickus for Good Morning America.
Recipe courtesy Sunny Anderson, 2009.
Other Recipes That You Might Like