Dave Zinczenko's sunny-side up avocado toast recipe
A protein-packed breakfast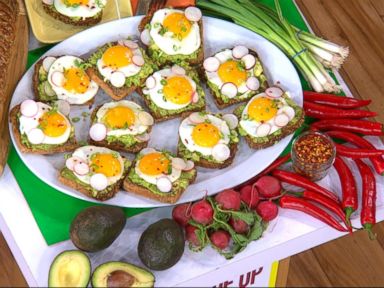 The author opens up about his new book, "Zero Belly Breakfasts," and shares his avocado toast recipe.
From the kitchen of Dave Zinczenko
ABC News Nutrition and Wellness Editor Dave Zinczenko is out with a new book, "Zero Belly Breakfasts," applying his wellness principles to the "most important meal of the day." Try his recipe for a protein-packed avocado toast topped with an egg. Season with red pepper flakes to add heat.
Ingredients
1/2 large avocado, mashed
2 large eggs
2 slices multigrain bread
1/4 teaspoon sea salt for sprinkling
1/4 teaspoon red pepper flakes (optional)
1 green onion, thinly sliced (optional)
1 radish, thinly sliced (optional)
Cooking Directions
In a small bowl, mash the avocado and set aside.
In a small skillet, fry each egg until your desired doneness.
Meanwhile, toast the sliced bread. Add some mashed avocado to each toast, season with a pinch of sea salt and red pepper flakes, and top with a fried egg.
If desired, garnish the toasts with a few sliced green onions, radishes, and another pinch of red pepper flakes. Serve right away.
200 calories 11 g fat (2.5 g saturated) 418 mg sodium 4 g fiber 450 mg sodium 2.5 g sugar 10 g protein
From the book Zero Belly Breakfasts by David Zinczenko. Copyright © 2017 by David Zinczenko. Reprinted by arrangement with Ballantine Books, an imprint of Random House, a division of Penguin Random House LLC. All rights reserved.d.
Recipe Summary
Main Ingredients: avocado, eggs, multigrain bread, sea salt
Course: Breakfast