Carla Hall's Sweet and Gold Potato Salad
A delicious twist on a classic dish!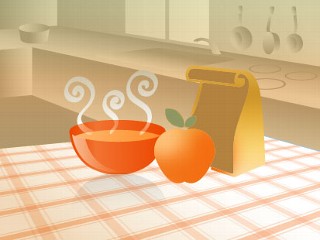 From the kitchen of Carla Hall
|
Yukon gold potatoes plus sweet potatoes? What a delicious combination! Try this recipe at your next backyard barbecue.
Ingredients
1 lb Yukon gold potatoes, peeled and cut into a 3/4-inch dice
1 lb red sweet potatoes, peeled and cut into a 3/4-inch dice
Kosher salt and freshly ground pepper
4 large eggs
1/2 C mayonnaise
1/2 C sour cream
1/2 C sweet relish
1 tspn Dijon mustard
1/2 tspn cayenne pepper
2 celery ribs with leaves, minced (3/4 C)
3 scallions, trimmed and finely chipped
1/4 C chopped mixed fresh herbs (preferably a combo of parsley, thyme, tarragon and basil)
Cooking Directions
- Place all the potatoes in a large pot and add enough cold water to cover by 2 inches. Generously salt the water and bring to a boil over high heat. Reduce the heat to simmer until just tender, about 15 mins
- Drain well, then spread in a single layer on a half sheet pan to cool.
- Meanwhile, put the eggs in a small saucepan and add enough cold water to cover them by 1 inch. Bring to a boil. Cover the saucepan and remove from the heat. Let stand, covered, for 10 mins.
- Fill a large bowl with cool water. Remove the eggs from the saucepan, gently roll on the counter to crack all over, then place in the cool water. The water will get under the membranes and make the eggs easier to peel. Once they've sat for a little while, peel them. When they're cool, coarsely chop them.
- In a large bowl, stir the mayonnaise, sour cream, relish, mustard, cayenne and a pinch of each salt and pepper until well mixed. Add the celery, scallions, herbs, potatoes and eggs and gently toss to combine. Season to taste with salt and pepper.
- Serve room temperature or chilled.
- You can prepare the whole salad, cover and refrigerate it up to 1 day ahead of time.
"Copyright © 2012 by Carla Hall from COOKING WITH LOVE published by Atria Books, a division of Simon & Schuster."
This recipe was styled by chef Karen Pickus for "Good Morning America."
Other Recipes That You Might Like