Chrissy Teigen's Sweet Potato Gnocchi with Brown Butter and Sage
Try This Savory Dish!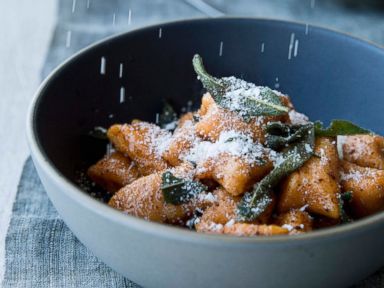 From the kitchen of Chrissy Teigen
Model and "The Fab Life" co-host Chrissy Teigen is sharing her love of cooking in her new book, "Cravings: Recipes for All the Food You Want to Eat." Try this recipe from "Cravings" at your next meal!
Ingredients
For the GNOCCHI
1 pound sweet potato (about 1 large)
1/3 cup whole-milk ricotta cheese
1/2 teaspoon freshly ground black pepper
Kosher salt
3/4 cup all-purpose flour, plus more if necessary
For the SAUCE
1 stick (4 ounces) unsalted butter
1/4 cup torn fresh sage leaves
1/2 cup finely grated Parmigiano-Reggiano cheese, plus more for garnish
Kosher salt and freshly ground black pepper
Cooking Directions
"My Dough Terror is well documented—I get night sweats thinking about having to combine flour, water, and salt into something that is actually edible. But this dough, my friends, is different. Yes, it's got all the telltale signs of an epic kitchen fail, but the addition of ricotta cheese makes it just forgiving enough that you might actually want to make gnocchi again—for other people, no less. The secret is to bring the dough together, and then to not overwork the situation (nothing's worse than someone trying too hard). After a quick boil, toast the gnocchi in brown butter and sage, shower them in cheese, and take a picture to prove to everyone that you really did pull off these fluffy orange pasta pillows yourself."
MAKE THE GNOCCHI: Pierce the sweet potato all over with a fork, wrap in a damp paper towel, and microwave on high until it is very soft, 12 to 13 minutes.
When the sweet potato is cool enough to handle, peel it and mash the flesh with a potato masher or ricer in a medium bowl until smooth. Stir in the ricotta, pepper, and 1 teaspoon salt, then scatter the flour into the mixture. Mix with a fork until a doughy mixture forms that's loose and shaggy but doesn't stick to the sides of the bowl; if necessary, add more flour, 1 tablespoon at a time.
In a large pasta pot, bring a gallon of water to a boil over high heat and salt it until it tastes good.
Flour your work surface and dump the dough onto it. Flour your hands and gently knead the dough 10 times—by folding the dough in half, pressing gently with the heel of your hand, and turning it 90 degrees each time —until it is no longer sticky. Add sprinkles of flour when necessary, but the less flour you use, the more tender the gnocchi will be.
Divide the dough into 3 equal pieces and gently roll them into balls. On a floured surface, using your hands, roll one ball of dough into a 12-inch-long, 1-inch-thick log. Use a paring knife to cut the dough crosswise into twelve 1-inch pieces. Repeat with the remaining dough balls to form about 36 gnocchi. Drop the gnocchi into the boiling water, stirring after about 1 minute to ensure they aren't sticking to the bottom of the pot, and cook until they float to the surface for a few seconds and are tender-firm, 4 to 5 minutes.
MEANWHILE, MAKE THE SAUCE: While the gnocchi are cooking, in a large skillet, melt the butter over medium heat. When the foam subsides, add the sage and cook until the sage is crispy and the butter is browned, about 3 minutes.
Drain the gnocchi (don't rinse it) and add it to the skillet. Toss to coat in the butter, add the Parm, and season to taste with salt and pepper.
Divide among bowls and garnish with more Parm.
Feel the dough:
Gnocchi dough doesn't have to give you nightmares. The texture you want is like softened Toll House cookie dough. So if your dough is too sticky, add a little flour at a time, but don't knead it too hard—that will make the gnocchi tough little cookies.
Reprinted from Cravings: Recipes for All the Food You Want to Eat. Copyright © 2016 by Chrissy Teigen. Photographs copyright © 2016 by Aubrie Pick. Published by Clarkson Potter/Publishers, an imprint of Penguin Random House LLC.
Recipe styled by Karen Pickus, chef/food stylist, "Good Morning America."
Recipe Summary
Main Ingredients: sweet potato, ricotta cheese, butter, cheese
Course: Appetizer/Starter, Dinner, Main Course