Ann Romney's Sweet Potato Muffins
A Perfect Side For Any Meal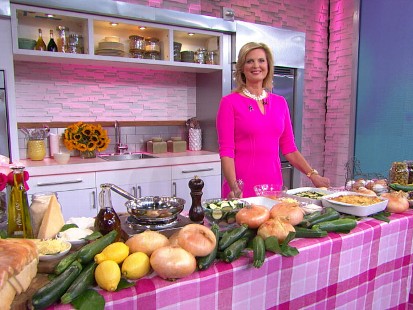 Wife of 2012 presidential candidate on new cook book "The Romney Family Table."
From the kitchen of Ann Romney
Ann Romney is a mother of five and grandmother to 22. In her new cookbook, "The Romney Family Table: Sharing Home-Cooked Recipes & Favorite Traditions," Romney shares recipes that have kept her family well fed and happy. Try her recipe for sweet potato muffins for your family.
Ingredients
1/2 cup butter, softened
1 cup sugar
2 eggs
11/3 cups cooked, mashed sweet potatoes
11/2 cups flour
4 teaspoons baking powder
1 teaspoon salt
1 teaspoon cinnamon
1 cup milk
1 cup sugared walnuts (see below)
1/2 cup brown sugar (optional)
Cooking Directions
For the Muffins:
Preheat oven to 375 degrees F. Grease or spray a 12-cup muffin tin. Cream the butter and the sugar, add eggs, and beat. Add the cooked, mashed sweet potatoes. In a separate bowl, combine flour, baking powder, salt, and cinnamon. Add gradually to creamed mixture, alternating with milk. End with dry ingredients. Do not overmix; batter should be lumpy. Fill muffin tins to 2/3 full. Sprinkle batter with sugared walnuts and top each filled cup with 1teaspoon brown sugar, if desired. Bake 20 to 23 minutes.
For the Sugared Walnuts:
Place 1 cup chopped walnut pieces and 3 tablespoons sugar in a 9-inch nonstick skillet overmedium heat. Cook, stirring constantly, until sugar is dissolved and walnuts start to caramelize.
Reprinted with permission from "The Romney Family Table." Photography credit: Mark Louis Weinberg.
Recipe Summary
Main Ingredients: sweet potatoes, sugar, flour, brown sugar, walnuts, milk, butter, eggs
Course: Side Dish, Breakfast, Dinner, Lunch, Starch, Vegetable