Taste of Home's Bunny Biscuits
Celebrate Easter With These Cute Cakes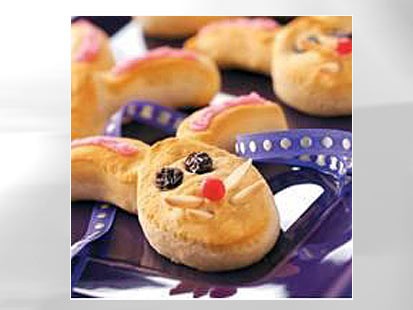 From the kitchen of Taste of Home
These cute little cakes are a great addition to your Easter celebration. They're a great kid-friendly project you can make the day before.
Ingredients
1 tube (7-1/2 ounces) refrigerated buttermilk biscuits
10 raisins
20 slivered almonds
1 tube pink decorating icing
5 red-hot candies or red candied cherries
Cooking Directions
Gently shape five biscuits into oval shapes; place on a greased baking sheet about 2 in. apart. Cut remaining biscuits in half. Shape biscuit halves to form ears; press firmly to attach to whole biscuits. On each biscuit, press on two raisin eyes and four slivered almond whiskers.
Bake at 375 degrees F for 8-10 minutes or until biscuits are browned. Cool slightly; use icing to frost ears and attach candy noses.
Recipe courtesy Taste of Home.
Recipe Summary
Main Ingredients: buttermilk biscuits, raisins, almonds, icing
Course: Dessert