Tasting Table's Eggnog Fried Chicken
A Festive Holiday Treat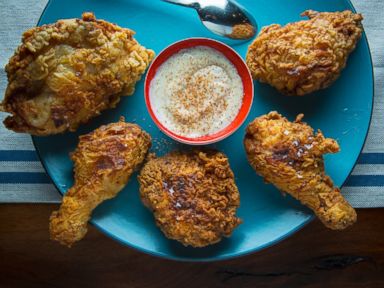 From the kitchen of Tasting Table
|
'Tis the season for that festive creamy drink! Eggnog is perfect on its own, so it makes sense that adding it to recipes takes them to another seasonal level. Try TastingTable.com's version of eggnog fried chicken below.
Ingredients
Fried Chicken
1 quart buttermilk
2 tablespoons kosher salt
2 teaspoons freshly ground black pepper
2 teaspoons packed freshly grated nutmeg
1/4 cup rum, optional
1 whole chicken, cut into 8 pieces (backbone reserved for gravy)
1 1/2 cups all-purpose flour
2 quarts canola or vegetable oil
Kosher salt or Maldon sea salt, for garnishing
Gravy
2 tablespoons canola oil
1 chicken backbone (from chicken above)
1/4 cup rum, optional
2 tablespoons butter
1/4 cup all-purpose flour
1 quart whole milk
1 1/2 teaspoons packed freshly grated nutmeg
Salt and freshly ground black pepper
Cooking Directions
Make the fried chicken: Whisk together the buttermilk, kosher salt, 1 teaspoon of black pepper, 1 teaspoon of the nutmeg and, if you choose, rum. Transfer to a resealable plastic bag, add the chicken pieces and let marinate in the refrigerator for up to 24 hours.
Make the gravy: In a medium saucepan, heat the oil. When hot add the backbone (cut it in half if needed) and sear on all sides. Remove and discard. Return the saucepan to medium-low heat. Carefully add the rum, if using, scraping the bottom of the pan with a spatula to release the solids. Let simmer until nearly evaporated Add the butter. Once melted, whisk in the flour and let cook for about 2 minutes or until no longer raw smelling. Whisk in the milk, as little at a time, until combined. Add the nutmeg. Raise the heat to medium and bring to a simmer. Cook, stirring often, until slightly thickened and it coats the back of a wooden spoon, about 7 minutes. Season generously with salt and pepper.
Finishing cooking the chicken: Thirty minutes before cooking, remove the chicken from the refrigerator. Whisk 1 1/2 cups flour and the remaining 1 teaspoon each of pepper and nutmeg in a large bowl.
Pull the chicken from the buttermilk mixture, shaking off excess, then dredge in the flour mixture. Shake off excess flour, then set on a wire rack to rest for a few minutes.
In a large, deep (4 to 5-inch) pot or Dutch oven, place enough oil to rise 2 to 2 1/2 inches up. Heat the oil to 350 degrees F. Fry 4 pieces of chicken at a time in the oil until browned and crisp and cooked to an internal temperature of 165 degrees F, about 10 to 17 minutes (timing will vary based on the thickness and cut of chicken). Transfer to a paper towel-lined plate and season while still hot with kosher or Maldon salt. Serve with the warmed gravy.
Recipe courtesy of TastingTable.com.
Other Recipes That You Might Like