Tebow's Pizza Pie
A Tebow Family Favorite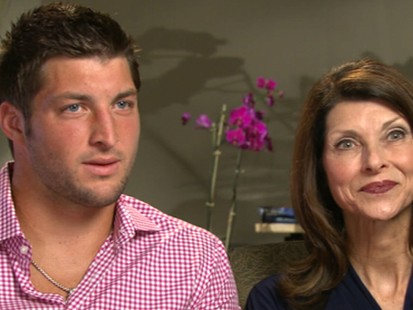 Quarterback tells Robin Roberts how he celebrated his mother when he was broke.
From the kitchen of Pam Tebow
This pizza pie is one of star quarterback Tim Tebow's favorite dishes that his mother made growing up.
Although Tebow has never made it himself, he says the pizza pie is great for serving to friends and that it represents the kind of "normal food" he prefers.
For more recipes from Taste of Home, check out their site here.
Ingredients
1 lb. ground beef
c. chopped green pepper
1 pkg. Italian style spaghetti sauce mix
1 6 oz. can tomato paste
c. water
1 large can baking powder biscuits
1/3 c. grated Parmesan cheese
6-8 oz. shredded Mozzarella cheese
Cooking Directions
Brown the meat, drain. Add green pepper, cook until tender. Stir in sauce mix, tomato paste, and water.
Simmer 10 minutes.
Line greased 9 in. pie pan with biscuits, press together to seal. Sprinkle c. Parmesan cheese over the crust.
Fill with meat mixture. Sprinkle top with Mozzarella cheese and remaining Parmesan cheese. Bake at 400 degrees for 15 to 20 minutes.
(The sauce can be made ahead and reheated to facilitate last minute preparations.)
This recipe was styled by chef Karen Pickus for Good Morning America.
Recipe courtesy Taste of Home.
Recipe Summary
Main Ingredients: beef, pepper, spaghetti sauce, parmesan, mozzarella
Course: Dinner
More Info: Kid Friendly