Tebow's Special Ice Cream Pie
Try This Special Tebow Family Dessert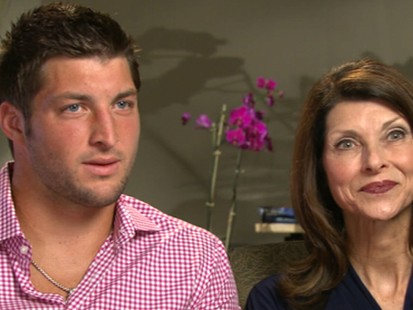 Quarterback tells Robin Roberts how he celebrated his mother when he was broke.
From the kitchen of Pam Tebow
|
This ice cream pie with a Rice Krispies crust, made with love by his mother, Pam Tebow, has always been a favorite of star quarterback Tim Tebow.
For more recipes from Taste of Home, check out their website here.
Ingredients
2-1/2 cups Rice Krispies
1/4 cup plus 3 tablespoons light corn syrup, divided
3 tablespoons butter
2 tablespoons brown sugar
1/4 cup hot fudge ice cream topping
1/4 cup creamy peanut butter
1 quart (4 cups) vanilla ice cream, softened
Cooking Directions
Combine the corn syrup, the brown sugar, and butter in medium size saucepan.
Cook over low heat, stirring occasionally, until mixture begins to boil.
Remove from heat. Add rice krispies cereal, stirring until well coated.
Press evenly in 9 in. pie pan to form crust. Stir together peanut butter, fudge sauce, and the 3 T. corn syrup. Spread half the peanut butter mixture over crust. Freeze until firm.
Allow ice cream to soften slightly. Spoon into frozen piecrust, spreading evenly. Freeze until firm. Let pie stand at room temperature about 10 minutes before cutting. Warm remaining peanut butter mixture and drizzle over top.
This recipe was styled by chef Karen Pickus for Good Morning America.
Other Recipes That You Might Like