Ted Allen's Brunch Tart with Swiss Chard, Bacon and Leek
Make With Store-Bought Puff Pastry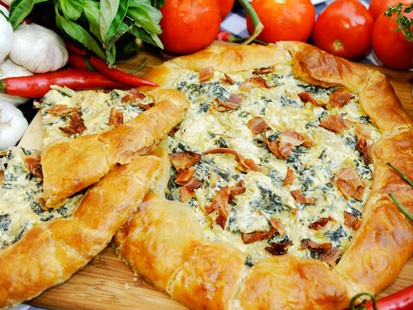 From the kitchen of Ted Allen
A luxurious, savory tart that's easy to put together and that puffs up gorgeously in the oven, this works beautifully for brunch or lunch; pair it with a simple green salad dressed with a light vinaigrette. This is a rare example of a recipe in which I use a premade ingredient—that's only because I don't tend to have three days to make my own puff pastry. I like the Dufour brand; it has only natural, high-quality ingredients, and no preservatives. It's great to have around, both for desserts and savory treats like this tart, or, say, pot pies.
Ingredients
6 slices of bacon, cut crosswise into ¼-inch strips
2 fat leeks (white and pale parts only), coarsely chopped and washed
½ medium yellow onion, chopped
2 garlic cloves, chopped
1 pound Swiss chard, ribs removed, coarsely chopped
Kosher salt and freshly ground black pepper
1 (15-ounce) container ricotta
3 large eggs
1 teaspoon thyme leaves
All-purpose flour, for rolling
1 sheet frozen puff pastry, thawed in the refrigerator
Cooking Directions
In a large sauté pan, fry the bacon over medium-low heat until brown and crispy. Drain on paper towels and set aside. Reserve the fat in the pan. Add the leeks and onion to the pan and cook over medium heat, stirring occasionally, until wilted, 5 minutes. Add the garlic, stir, and cook until fragrant, 1 minute. Add the chard and cook until wilted and tender, 5 minutes. Remove from the heat, taste, and season with salt and pepper as needed; let cool.
Meanwhile, in a large bowl, whisk together the ricotta, 2 of the eggs, the thyme, and ½ teaspoon salt. Then, fold the cooled vegetable mixture and the bacon into the ricotta mixture. Swap the bacon for ½ cup freshly grated Parmesan or pitted kalamata olives, and you have a vegetarian dish. Replace the chard with spinach, kale, or (with a longer sauté time of 20 minutes and a finer cut) collards.
Preheat the oven to 375°F. On a lightly floured surface, roll out the pastry until it's 12 inches square. Using a 12-inch plate or just eyeballing it, cut the dough into a circle (knead scraps into a ball and save for another use—Cheddar straws, say). Transfer the dough to a parchment-lined baking sheet. Spoon the tart filling into the center, leaving a 2-inch border of pastry. Lift the pastry edge and fold over onto the filling, creasing the dough as needed, and leaving a 5-inch circle (or so) of filling exposed. In a small bowl, whisk the remaining egg with 1 tablespoon water, and brush a thin layer of egg wash on the exposed pastry, taking care not to let egg run down the sides to the pan. 6 Bake until the pastry is golden brown, about 45 minutes. Remove from the oven, and let rest for 10 minutes before serving.
Recipe courtesy Ted Allen.
This recipe was styled by chef Karen Pickus for Good Morning America.
Recipe Summary
Main Ingredients: thyme, bacon, leeks
Course: Breakfast, Brunch
More Info: Kid Friendly