Ted Allen's Sticky Bun Bread Pudding
Make for Breakfast or Brunch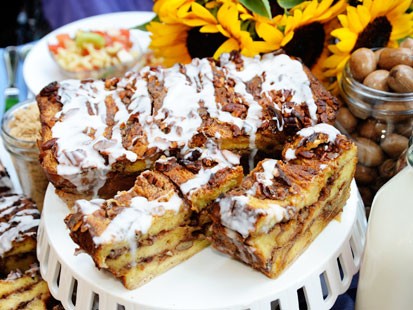 From the kitchen of Ted Allen
Just because it's breakfast (or brunch) doesn't mean you don't need dessert! Here is Barry's simple take on a bread pudding that tastes like the best cinnamon buns you've ever had. Challah bread makes for a great, buttery foundation; if you can't find it, make your own, or try to use some other soft, eggy, golden bread.
Ingredients
4 large eggs
2 cups plus 2 tablespoons half-and-half, or more if needed
1 teaspoon pure vanilla extract
1 cup chopped pecans
½ cup packed light brown sugar
2 ½ teaspoons ground cinnamon
8 (1-inch-thick) slices day-old challah, crusts removed
8 tablespoons (1 stick) unsalted butter, at room temperature
1 cup confectioners' sugar
Cooking Directions
Preheat the oven to 350°F. In a medium bowl, whisk the eggs, 2 cups of the half-and-half, and the vanilla to blend. In a small bowl, stir together the pecans, brown sugar, and cinnamon.
Butter the bread slices on both sides generously. Place 2 slices of the bread in the bottom of a 9 × 5-inch loaf pan or small baking dish, cutting additional bread pieces to line the bottom of the pan snugly. Sprinkle with one-third of the pecan mixture. Repeat twice, using the remaining bread and pecan mixture. Press on the bread to compact. Pour the egg mixture over the bread by ½ cupfuls, saturating the bread.
Put the loaf pan in the center of a 9 × 13-inch baking pan, and transfer to the oven. Carefully pour enough hot water into the baking pan to come halfway up the sides of the loaf pan. Bake until the pudding is set, about 45 minutes. Remove the loaf pan from the water; cool slightly. Turn out the loaf onto a platter.
Whisk the confectioners' sugar and the remaining 2 tablespoons half-and-half in a medium bowl to blend, adding more half-and-half if necessary to make a thin glaze. Slice the warm bread pudding thickly, and transfer to plates. Drizzle the bread pudding slices with glaze, and serve.
Recipe courtesy Ted Allen.
This recipe was styled by chef Karen Pickus for Good Morning America.
Recipe Summary
Main Ingredients: eggs, half and half, cinnamon, brown sugar
Course: Breakfast, Brunch
More Info: Kid Friendly