Ted Allen's Summer Pasta Salad with Ripe Tomatoes and Peaches
Peaches Meet Pasta in This Fantastic Salad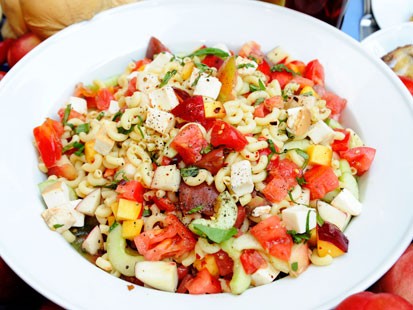 From the kitchen of Ted Allen
This is a great brunch dish, colorful and fresh. Use any pasta you want, but I like large elbow macaroni best. For maximum impact, keep the pasta, cheese, tomatoes and peaches, and vinaigrette separate and at room temperature until ready to serve; do not refrigerate, which would dull the lush flavors.
Ingredients
Kosher salt
1 pound dried pasta
5 medium tomatoes, preferably heirloom ones in different colors, at their absolute ripest
3 medium peaches or nectarines, white or yellow, at their absolute ripest
2 tablespoons red wine vinegar
2 garlic cloves, chopped
1 teaspoon red pepper flakes
1/2 cup extra-virgin olive oil
1 cup 1/2-inch cubed smoked fresh mozzarella
1 hothouse cucumber, peeled, halved lengthwise, seeded, and sliced ¾ inch thick
1/4 cup thinly sliced basil leaves
Cooking Directions
Cook the pasta in generously salted boiling water until just al dente. Drain, and set aside to cool completely. Cut the tomatoes into bite-size chunks, and put them and any juices from the cutting board into a very large bowl. Sprinkle with 1 teaspoon salt, and toss very gently so as not to break up the tomatoes. Allow the salt to draw out the juices for 15 minutes.
Peel and stone the peaches, cut into bite-size chunks, and add to the tomatoes. Toss gently to cover the peaches with tomato juice (which will prevent the fruit from browning).
Make a vinaigrette: In a small bowl, whisk together the vinegar, garlic, red pepper flakes, and olive oil. When you are ready to serve, add the pasta to the tomato mixture, pour the vinaigrette over, and add the mozzarella, cucumber, and basil. Gently toss to combine. Serve at room temperature.
Recipe courtesy Ted Allen.
This recipe was styled by chef Karen Pickus for Good Morning America.
Recipe Summary
Main Ingredients: salt, tomatoes, pasta
Course: Brunch, Lunch