Tasting Table's Thanksgiving Baked Alaska
A Different Dessert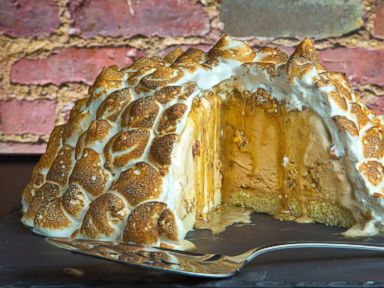 From the kitchen of Tasting Table
There's nothing wrong with classic holiday desserts like pumpkin or apple pie, but why not experiment a little this Thanksgiving? TastingTable.com has developed quirky yet crowd-pleasing recipes that are sure to wow guests. Try out this fun recipe for Thanksgiving Baked Alaska below.
Ingredients
For the ice cream:
4 cups heavy cream
2 cups milk
2 vanilla beans, split and scraped
5 toasted and chopped pecans
12 egg yolks
1½ cups granulated sugar
2½ teaspoons kosher salt, divided
1 cup light corn syrup
2 cups dark brown sugar
¼ cup molasses
¼ cup unsalted butter
¼ cup bourbon
For the cake:
2 cups cake flour
1¼ cups sugar
1 teaspoon kosher salt
8 eggs
3 tablespoons vanilla extract
¼ cup unsalted butter, melted
For the meringue:
1 cup maple syrup
5 egg whites
4 teaspoon cream of tartar
Cooking Directions
Make the ice cream:
Bring cream and milk to a simmer in a medium saucepan over medium heat. Add vanilla and 3 cups pecans, turn off heat, cover, and let steep for 1 hour.
Whisk egg yolks and granulated sugar in a mixing bowl. Pour cream mixture through a strainer into the yolk mixture while whisking constantly. Return mixture to the saucepan and cook, whisking, over medium heat until thickened into a light custard, about 12 minutes. Strain custard into a large bowl, stir in ½ teaspoon of the salt, cover, and chill for 3 hours. Churn the cream mixture in an ice cream maker according to manufacturer's instructions. Chill in freezer until firm but not totally solid, 2-3 hours.
Meanwhile, make a bourbon pecan swirl: In a small, heavy saucepan combine corn syrup, brown sugar, molasses, butter and remaining ¾ tablespoon of salt. Cook on low heat until all ingredients are combined and sugar is fully dissolved. Stir in remaining 2 cups pecans. Stir in bourbon and reduce heat to very low to keep sauce warm. Using spatula, fold pecan swirl into ice cream to create a marbled effect. Put the ice cream into a 3-quart bowl and freeze for 2 hours.
Make the cake:
Preheat oven to 350 degrees. Grease one 8-inch round cake pan. Line with parchment paper and spray with non-stick cook spray. Lightly dust the pan with flour. Sift together the cake flour, ¼ cup of the granulated sugar, and salt onto a piece of wax paper.
Place the eggs in the mixing bowl of a standing mixer and set it over a pan of simmering water. Add remaining 1 cup of sugar and whisk until the mixture feels warm to the touch, about 10 minutes. Place the bowl on the mixer and beat on medium speed until the mixture becomes pale yellow. Add the vanilla and, working in batches, add the flour mixture to the egg mixture little by little, gently folding it in. Place 1 cup of the batter into a bowl and whisk in the butter; gently fold this mixture back into the cake batter. Pour the batter into the prepared pan and bake for 25 minutes. Let cake cool for 10 minutes before inverting onto a rack to cool.
Make the meringue:
In a small pot over medium heat, heat the maple syrup to soft-ball stage (about 240 degrees F.). Meanwhile, in the bowl of a standing mixer, whip the eggs whites on low speed until foamy. Add the cream of tartar, increase the speed to medium, and beat until soft peaks form. With the mixer running, pour the hot syrup in a thin stream over the egg whites. Beat until stiff and glossy.
To serve, cut the cake to fit the top of the bowl of ice cream; place on top of the ice cream. Place bowl into a larger bowl filled with hot water and let sit for 4 minutes. Invert bowl onto a serving platter to unmold; chill for 30 minutes. Using a pastry bag, fitted with a wide tip, pipe the meringue onto the ice cream in decorative pattern. Using blowtorch, brown the meringue to the color of a toasted marshmallow. Serve immediately.
Recipe courtesy TastingTable.com.
Recipe Summary
Main Ingredients: heavy cream, milk, vanilla beans, cake flour, sugar, maple syrup, egg whites, cream of tartar
Course: Dessert