Thanksgiving Leftover Fritos Pie
A Delicious Way to Use Leftovers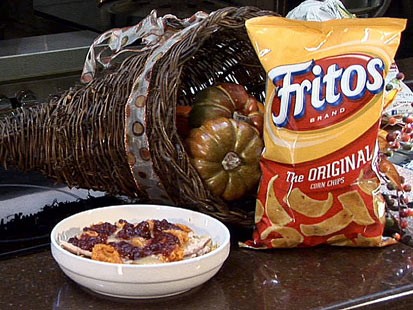 From the kitchen of Fritos
|
For more great Fritos Pie recipes, visit their site here.
Ingredients
Giblet gravy
Turkey, cooked and sliced
Sweet potato pie
Fritos Original
Cranberries, cooked
Cooking Directions
Heat gravy, turkey and sweet potato pie separately on stove top or in microwave. Layer components in a bowl from bottom up: Fritos® Original, gravy and turkey. Add dollops of sweet potato pie, more gravy and dollops of cranberries. Serve immediately.
*All ingredients are optional (except for Fritos!), and amounts can be customized to suit your tastes. Use the ingredients you have left after the holiday to create your own delicious Thanksgiving Leftovers Fritos Pie!
Recipe courtesy Fritos.
Other Recipes That You Might Like