Tilapia Tacos
Flavorful easy fish twist on the Taco.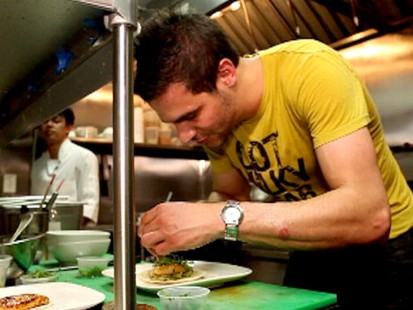 Epicurious and chef Angelo Sosa explore Asian fusion.
From the kitchen of Angelo Sosa
Ingredients
CHILI KISSED TILAPIA TACO
CORN TORTILLAS 8 EA
LETTUCE, SHREDDED 8 OZ
RED ONION, SHREDDED 3 OZ
CILANTRO, SPRIGS W/ STEMS 12 EA
GUACAMOLE:
RIPE AVOCADOES, COARSLY MASHED 6 EA
RED ONION, SMALL DICED 1 OZ
JALAPENO, SEEDED AND DICED 2 EA
LIME, JUICE 2 LIMES
SALT 1TSP
CHILI MAYONNAISE:
HEAVY MAYONNAISE 8 OZ
SRIRACHA 2 OZ
FISH MARINADE:
TILAPIA, FILLETS 7-9 OZ CUT INTO STRIPS 2 EA
CORIANDER, GROUND 1 TSP
WHITE PEPPER, GROUND ½ TSP
CUMIN, GROUND ½ TSP
CHIPOTLE IN ADOBO, CHOPPED 1 TBSP
GRAPE SEED OIL 2 TBSP
FISH SAUCE 1 TBSP
Cooking Directions
MIX INGREDIENTS IN A BOWL UNITL FULLY COMBINED
COMBINE ALL INGREDIENTS IN A BOWL AND MIX. COVER WITH PLASTIC WRAP TOUCHING THE SERVICE AND ALLOW TO SIT IN THE FRIDGE WHILE YOU MAKE THE FISH MARINADE
COMBINE ALL INGRDIENTS EXCEPT FOR FISH IN A BLENDER AND PROCESS UNTIL COMBINED. POUR RESULTING LIQUID OVER FISH AND ALLOW TO MARINATE 4-6 HOURS. TO COOK BRING A SKILLET TO HIGH HEAT WITH 1 TBSP OF OIL ONCE THE OIL BEGINS TO GLISTEN ADD THE FISH AND COOK UNTIL IT JUST BEGINS TO FLAKE BUT NOT FALL APART
TO ASSEMBLE:
WARM BOTH SIDES OF THE CORN TORTILLA IN A HOT SKILLET. SPREAD A THIN LINE OF THE CHILI MAYO DOWN THE CENTER OF EACH TORTILLA.
DIRECTLY ON TOP OF MAYONNAISE YOU WILL BE LAYING A THIN LINE OF SHREDDED LETTUCE FOLLOWED BY THE RED ONION. PLACE THE FISH DIRECTLY ON TOP AND FINISH WITH A DALLOP OF THE GUACAMOLE AND CILANTRO SPRIGS
Recipe Summary
Main Ingredients: guacamole, jalapeno, mayonnaise, sriracha, tilapia, coriander, chipolte, lettuce
Course: Side Dish, Appetizer/Starter