Tim Love's Grilled Tomahawk Chop
A Great Grilled Chop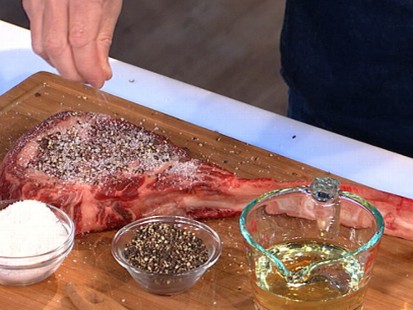 Josh Elliott helps prepare a feast perfect for spring season.
From the kitchen of Tim Love
WHAT IS THE AUSTIN FOOD & WINE FESTIVAL?
Austin Food & Wine Festival (April 27-29) celebrates the talent, innovation and unique flavors of Texas while featuring renowned chefs, sommeliers, cocktail experts, culinary personalities, rising stars, and live musical acts, like Lucinda Williams, Mayer Hawthorne & The County, and more.
Austin Food & Wine Festival will offer more than 40 events over three days (April 27-29, 2012), including grand tasting tents, hands-on cooking demos, wine and cocktail tastings, book signings, live musical acts and more.
Where can I get tickets? http://www.austinfoodandwinefestival.com/
Ingredients
1 (32 oz) bone in prime ribeye, full-bone Frenched
Peanut oil
Salt and cracked black pepper
For the chili hollandaise:
1 shallot minced
1 serrano minced
1 cup red wine vinegar
3 egg yolks
1/2 lb butter
S&P
Cooking Directions
For the grilled tomahawk chop:
Brush oil on both sides of meat. Use salt and pepper generously. In a 12 inch cast-iron skillet or flat-top, sear on both sides and finish in a 350° oven until one level below the desired temperature - (8 minutes for medium rare) Remove from oven, let it rest for ten minutes. And then place back in oven for approximately 2 minutes to heat before serving.
For the chili hollandaise:
In small saucepan, add shallot and Serrano and vinegar, and reduce to an essence (until all liquid is gone). Transfer essence to small food processor, add egg yolks, puree for one minute. Bring half lb of butter to simmer, slowly add to food processor, until incorporated. Season with S&P.
This recipe was styled by chef Karen Pickus for Good Morning America.
Recipe Summary
Main Ingredients: ribeye, peanut oil, vinegar, egg yolks
Course: Dinner
More Info: Kid Friendly