Triple-Chocolate Brownies
Black Bleans Are the Secret Ingredient in This Low-Fat Version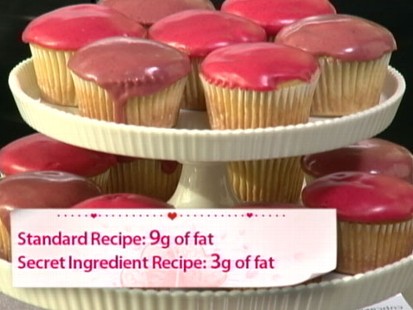 Sarah Carey bakes vanilla cupcakes, chocolate brownies and gingerbread cakes.
From the kitchen of Everyday Food Magazine
Makes 16
|
Enjoy Valentine's Day without doing damage to your waistline. Puréed black beans replace some of the butter used in these brownies. Their earthy flavor and dark color is a great match for chocolate.
Ingredients
1/4 cup (1/2 stick) unsalted butter, plus more for baking pan
1/4 cup black beans, rinsed, drained, and puréed until completely smooth
3 ounces semisweet chocolate, chopped (1/2 cup)
2 ounces unsweetened chocolate, chopped (1/3 cup)
1 1/3 cups sugar
2 large eggs, plus 1 large egg white
11/2 teaspoons pure vanilla extract 1 cup all-purpose flour (spooned and leveled)
1/4 cup unsweetened cocoa powder
1/2 teaspoon baking powder
1/2 teaspoon fine salt
Cooking Directions
1. Preheat oven to 350°. Lightly butter a 9-inch square baking pan and line with parchment paper, leaving a 2-inch overhang on all sides. In a large microwave-safe bowl, combine butter, bean purée, and chocolates and microwave in 30-second increments, stirring each time, until melted and smooth, about 2 minutes. Whisk in sugar, eggs and egg white, and vanilla until smooth.
2. In a small bowl, whisk together flour, cocoa powder, baking powder, and salt. Stir into chocolate mixture until just combined. Pour batter into pan; smooth top. Bake until top is cracked and a toothpick inserted in center has moist crumbs attached, about 25 minutes (center will seem undercooked but will set further as it cools). Let cool completely in pan on a wire rack. Using parchment, lift brownie from pan and cut into 16 squares. (Store in an airtight container, up to 3 days.)
Optional:
Nut lovers can add ½ cup chopped walnuts to the brownies. Walnuts pack a good dose of heart-healthy omega-3 fatty acids as well as protein and fiber.
Makes 16. Per Brownie: 155 cal; 7 g fat (4 g sat fat); 3 g protein; 24 g carb; 2 g fiber
Other Recipes That You Might Like